When it comes to creating an overall marketing plan, many companies need to add local marketing to the mix. Specifically, local search engine optimization (SEO) can be a powerful way to reach customers, and an important component of digital marketing. In fact, errors in local SEO can have a significantly negative impact on a local business.
As Neil Patel has said, the new SEO is content marketing. With local SEO, though, the equation is usually a little different. One of the best strategies for local SEO is to combine rich, organic content with a number of other strategies that are valuable for building local outreach into an SEO program. When building the content, don't forget the content strategy.While attending the Inbound16 conference, I attended an SEO presentation by Rand Fishkin of MOZ. He emphasized the need for local search and said that search engines are optimizing local search for voice and search queries based on asking the question "pizza near me" when searching for pizza parlors. The "near me" query uses a cell phone GPS and then identifies qualified search results.
Pro Tip: When physically near your business, try a voice search and ask "[business category] near me" and see where you end up in search. If you do not appear in the top then get help to fix it!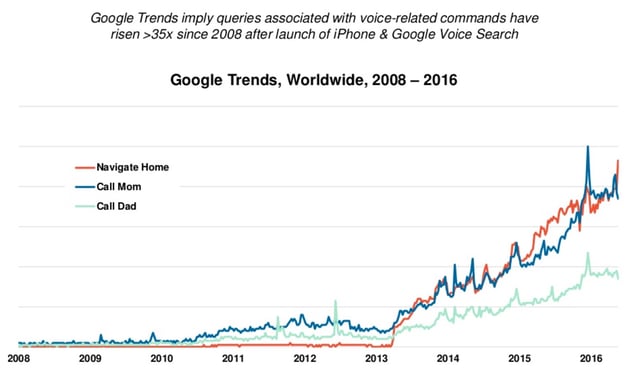 Image source: KPCB 2017 Internet Trends Report
Name, Address and Phone number (NAP) consistency is also very important. Rand also mentioned that the business phone number that resolves to a local location is important. He told a story about a business that had changed their phone number, but the new number was previously associated with a company that had gone out of business. Because of the bad number, Google blocked the business from search because it thought the business no longer existed.
SEO is a very technical craft. I like to categorize the process in two buckets. Bucket #1 is Hygiene - those things that are technically wrong on your website that are hurting SEO. Bucket #2 is all of the activities relating to content, link building and other activities to help improve your site's search results both local and otherwise. Be sure to fix the SEO Hygiene first than build search rankings using content, link building, etc.
The following image shows the ranking factors for local SEO. Make sure you get at least the top 5 right, and more if your time and budget allows!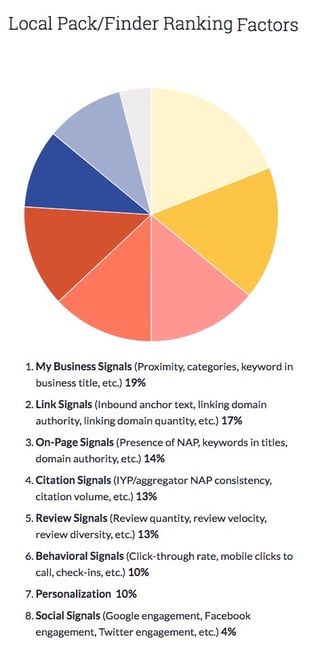 Utilizing Local Directory Listings
One of the first things that many experts recommend in local SEO is registration with local directory listings. Many business leaders have heard of Google My Business, which is Google's own answer to local business registration. It makes sense that in the age of new search algorithms, Google is going to reward (and help) businesses that complete the information in its local directory service. If you have not set up your Google My Business then check out this video about how to do it.
However, in addition to Google My Business, businesses can sign up for Bing, Yahoo Local, Yelp and other directory listings that are going to promote visibility for the business in the local area, and help enhance that company's online footprint. Small business leaders can also register for some of the major local directory listings with an e-mail address and add other basic information, or use third-party consultants to register through multiple listings in the most efficient way.
Everyone thinks of Google first when they think about search engines, however, we must not forget Bing. Apple has shifted their mobile search to Bing and the resulting search volume on Bing has increased. Be sure to create your listing on Bing Places for Business. Similar to Google My Business, the process is very straightforward and it has the added benefit of covering Yahoo search too.
One additional item to add to the list of directory listings is Apple Maps. When it comes to mobile, Apple has a significant share. Just as people are searching Google maps to find a business, the same is true for Apple maps. One of our partners, Phierce Marketing, wrote an article titled Local SEO is not Rocket Science where they discuss the Apple Maps item among other factors.
On-Page Local SEO Factors
In addition, businesses can use some of the simplest on-page SEO strategies to make sure their local appeal is written into their website pages. A piece at Search Engine Watch recommends adding keywords strategically to the title, meta-description, heading tags and images on the site page. Businesses can also add location data to a schema markup. All of this helps to solidify the context of a page as one belonging to a local business that's serious about boosting visibility and defining itself online.
Business Citations
Another helpful strategy involves creating business citations elsewhere on the web that show the name and address of your business or other basic information. Think of this type of strategy as a "white pages" or "yellow pages" strategy on the web.
Actually, much of the low hanging fruit in business citation research involves websites like Yelp, Superpages and more that have largely replaced the practice of printing thick business telephone directories. Moz published a summary of the best local citation sources by US city. This list will help you narrow down your initial business citation activity.
Much like the old days, when businesses needed to take out large ads in printed telephone directory books, getting business citations does two things -- it reveals the existence of the business to greater numbers of web users, but it also shows web crawlers and search engines that the business has visibility online.
To keep track of business citations, create a spreadsheet with a listing of the specific business citations you have been able to register on different sites, to understand how well the company is doing in this regard. Registering with a local Chamber of Commerce or a local business index helps -- so does getting stories into a local newspaper or other publication, whether it's online or in print. Print pieces can show up online in various ways -- the business can scan them in and post them online, or secondary references can end up in local blogs.
For businesses with a broader reach than local, consider issuing a press release and push it through your broader service area. These press releases can include multimedia and inbound links to your website. If your company has a business partner, one great strategy is to issue a joint press release. This helps because both companies promote the release, giving it a broader reach.
Online Company Reviews
Local reviews have a direct impact on local search results. Be sure to spend some time acquiring them, especially for the most popular services. To find out which ons to prioritize in your area, do a private search (incognito in Google Chrome) for your product or service category and see which ranting listings appear in the first three pages alongside your listing and those of your competitors.
It's worth mentioning that this doesn't just mean Google reviews. You'll also want to focus on getting reviews on your Yelp page and other local directories. Your first priority should be Google reviews though since Google is the dominant search engine.
Pro Tip: Capture low-hanging fruit by reaching out to your existing customers and ask them if they'd be interested in leaving you a review. You could incentivize them for their time by offering a gift for their time. Be sure to emphasize that the review is theirs to give and if they are not 100% satisfied with your work or product to reach out to you so you can make it right!
Many customers don't know where to start. Help them by creating a page on your website that gives instructions to them on exactly how they can review your business (i.e. yourwebsite.com/review-us/). You won't believe how effective this is when it comes to getting in touch with them, especially the non-technical ones! Include on the page a listing of review sites that you prioritized as described above with links to the listing pages. Include a "please review us" link in your email signature that brings them to your review-us page for instructions.
A Great Website Experience
Another key component of good local SEO is the creation of a web interface that works for users.
Web projects should feature responsive and mobile-friendly design. So many people use smartphones to do more and more of their online shopping and research that it makes sense to create responsive websites, especially if they find you through voice search on their mobile phone. Many experts would consider this an integral part of local marketing and local SEO -- you're letting local users get better access to the business through their mobile devices. In general, websites should be intuitive and easy to navigate. The best information should be in easy-to-reach places. And although content marketing is just one part of the whole, having some good outreach pieces available through a landing page will also help with local business visibility.
Distinguish a Business with a Creative Domain Name
Another major point in both local and global SEO involves domain names and business branding.
Many companies make a simple mistake online. Instead of distinguishing themselves with a professional business-name-based domain and something that's consistent with their name and logo, they go with domain names that include generic keywords related to their industry. However, lots of research shows that many businesses are better off parking their website under a domain that describes their brand, not their products and services. In a nutshell, using generic domains doesn't make the company more competitive – instead, it waters down their online appeal. On the other hand, building up all of the above local search and SEO factors toward a brand name puts that business on solid ground to grow and expand over time.
Additions to Content Marketing Plans
If content marketing is only part of the game when it comes to local SEO, what else do you add?
There is a growing trend among some digital marketers that focuses on including interactive tools and resources in addition to rich content. For example, a company may add an interactive calculator to a site page. They may run a contest with a web form where users can sign up and keep track of results. They may add a forum where individual prospective customers or anyone else can talk about a field or industry that's relevant to what the company does. All of these are useful ideas for branching out and doing more with a local business website.
Think about how to reach out to web users and talk to Bristol Strategy about upping your online game. We are experienced at helping clients to renovate web projects to get the best inbound marketing outcomes. Let us help with local SEO and everything else that can optimize your web footprint and drive sales and visibility online.

TWEETABLE TIP
When it comes to online marketing, local search engine optimization (SEO) is a powerful way to reach customers. Learn Local Search Engine Optimization Best Practices. #SeoTips #SEO #DigitalMarketing #OnlineMarketing
VIA @dorecchio

Additional SEO-related articles and resources:
Bristol Strategy is a full funnel inbound marketing agency and inbound sales agency offering the full complement of Inbound Marketing services that enable our clients to surpass their business objectives by transforming the way they engage with their buyer online. Reach out to us to learn more about how our experience and capabilities can help your business grow.
Image #1 Copyright: 123RF Stock Photo