The rules have now fundamentally changed for the buying process and sales cycle. Buyers are now firmly in control, often ignoring traditional advertising channels and actively searching for product or service information online to make an informed purchasing decision with little or no input from the seller.
Fortunately, there is a silver lining for marketers to this new paradigm. Inbound marketing provides a new avenue for reaching the modern buyer on their own terms – providing valuable, objective information that can gently guide the buyer into a relationship with the seller without the taint of "advertising." Inbound marketing creates warm leads who see value in what you have to offer and want to engage with you.
But inbound marketing is only half of the battle. Once leads become prospects they need to be turned into customers and that requires the modernized version of the sales process – inbound sales. Here's where automation really shines. To create a seamless contact/convert/customer cycle through automation, you actually need two kinds of software solutions: marketing automation software to attract leads, coupled with customer relationship management (CRM) software to build and nurture relationships once the sale is closed. Integrating these two solutions helps bridge the gap between marketing and sales, making the hand-off smoother, more efficient, and more effective.
The diagram below shows the different stages of the relationship for inbound sales (on the right) versus inbound marketing (on the left).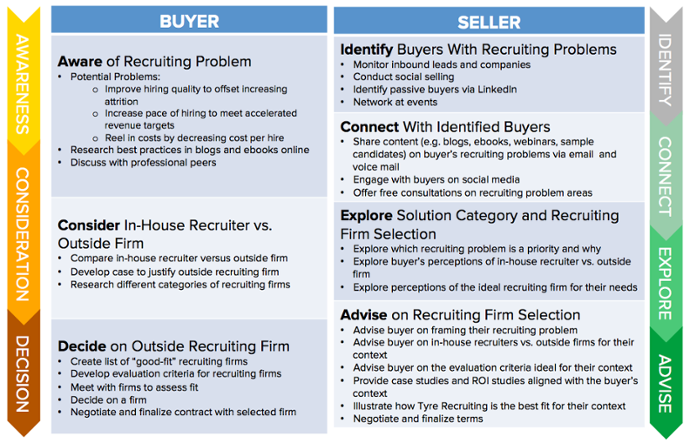 Inbound sales draw on the same philosophies as inbound marketing because inbound sales addresses the wants and needs of the buyer first – what inbound solutions provider Hubspot calls "solving for the customer" -- compared to traditional outbound sales techniques that focus instead on seller goals and objectives. Inbound salespeople personalize the entire sales experience to the buyer's perspective by researching their needs and offering value with each interaction.
Just as inbound marketing creates content for a particular buyer and specifically for each stage of the buyer's journey for information (Awareness, Consideration, Decision), inbound sales takes care to understand the buyer by mapping out the buyer's sales journey and considering his or her focus at each stage of the journey through the inbound marketing sales funnel.
By puzzling out the buyer's actions in the inbound marketing process, the smart inbound salesperson will be able to craft a sales approach personalized to the buyer's interests. However, the inbound sales methodology is a complete change of thinking for most sales teams. It requires a lot of research into each prospect. However, the payoff is significant because the time invested has been to identify and develop highly qualified prospects and the approach taken by inbound sales representatives provides a substantial advantage over the typical, traditional outbound sales approach.