Here's a lesson in the power of building a great brand:
A few years ago, I traveled to Ireland and England on vacation. I love great beer, so as you can imagine, a visit to the Guinness factory in Dublin was definitely on the schedule. Being a student of all aspects of marketing, it was a great opportunity to fuel my beer passion and study one of the greatest brands of all time.
When traveling in Ireland, you immediately notice the Celtic harp is everywhere—including on the Guinness sign and pint glass. That is because the harp is the national symbol of Ireland, dating to when English monarch Henry VIII declared himself King of Ireland in 1531. The harp was revered in Celtic culture (and all over Europe at the time). Scottish and Irish kings were even required to have their own resident harper, whose main duties were to accompany poetry recitations or the singing of psalms. With these powerful associations, it is no surprise that Guinness founder Arthur Guinness chose the harp to become part of his brand.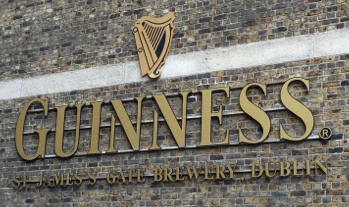 Today, Guinness is one of the most widely recognized brands in the world. One of the uniquely recognized elements of the Guinness brand is the pour of each and every beer, its characteristic head, and, if you are lucky, a shamrock image on top of it. Guinness takes a different approach than most breweries, using nitrogen to provide the carbonation and head, while most beers use Co2.
However, the time it takes to pour a pint of Guinness became an issue for the brand when selling to impatient Americans—so much so, that the company ran advertisements in 1998 emphasizing the importance of a good pour to bring out the flavor of the Guinness beer. And it worked: The campaign turned what was perceived as a negative into a positive, and helped the company create a loyal worldwide following.
Today, the waiting time for a Guinness pour is not an issue. Guinness turned a product liability into an asset. Now, even other brands such as Samuel Adams offer beers with a nitrogen feed, while Starbucks sells a nitrogen-infused, cold brew coffee.
The Guinness brand has lasted longer than most products we know of today. Why? It's because the company has responded to threats creatively, and used marketing to turn product liabilities into assets. With the world's shift to digital marketing in the time since that pivotal 1998 campaign, Guinness has found even more ways to engage with their customers, by leveraging platforms such as video, social media, and smartphones. They've even created opportunities for visitors to learn how to pour the perfect pint of Guinness themselves—how much fun does that sound?
So, what does this mean for you?
Take a few moments right now to think about how your own company is engaging with your customers and prospects. Are you addressing their problems? Are you creating fun ways for them to engage with your brand? Does your brand identity match your prospects' perceptions of it?
The nature of online content gives your business, like Guinness, a unique opportunity to connect with your customers, and even give them an inside look into your company in a way that is simply not compatible with traditional advertising and media. Do it well, and you can create not only individual fans of your products or services, but a community of evangelists devoted to your entire brand.