Recent data compiled by HubSpot found that 47% of prospective buyers viewed three to five pieces of content from a business before engaging with a sales rep.
Think about that. Nearly half of your prospective customers have interacted with you three to five times before you even know it.
And even more importantly, you might not know exactly which content your customers are choosing to learn more about you.
That means that every single piece of content you create needs to support your goal of building trust with the prospective customer. And as we already know, that means it must be customized to meet customers' needs at each stage of the buying process.
It makes a lot of sense. For example, if a prospective customer has not yet identified the causes of their problem, do you think they are ready to hear about the benefits of your solution?
Don't be tempted to skip a stage, either. After all, if you jump right into content about why the customer should buy your products or services without first proving that you care about the problem that brought them to you in the first place, you are effectively demonstrating that you care only about you—and not them. And that's exactly the impression that you want to avoid.
So, creating a variety of content tailored to each stage of the buyer's journey is key to an inbound marketing strategy. But what does that look like in practice? The graphic below illustrates this in more detail.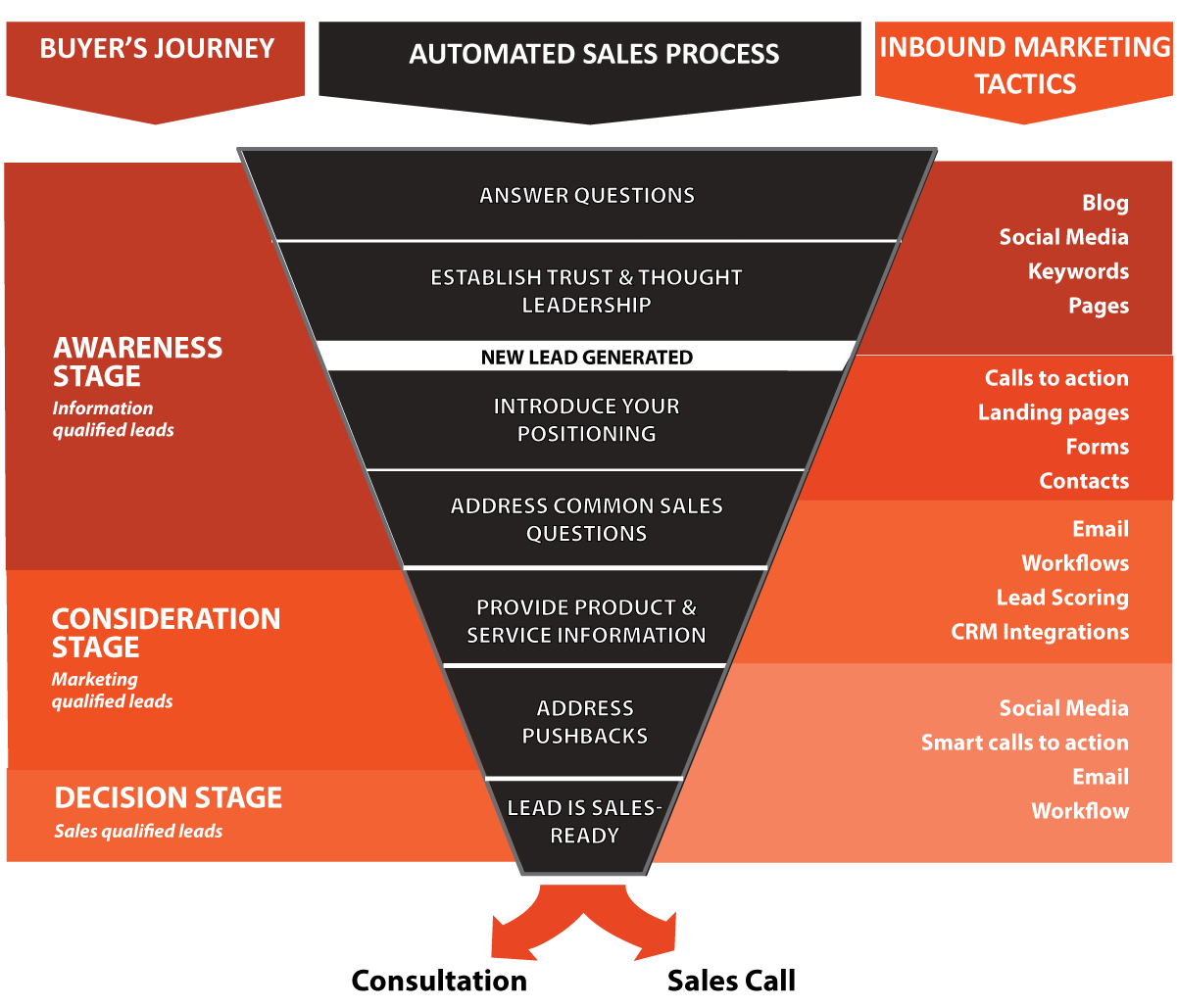 In this graphic, you see that each stage of the buyer's journey is tied to specific goals in the sales process; in turn, this translates into specific inbound marketing tactics you can implement to achieve each goal. This then move prospective buyers through the funnel to the next stage of the buyer's journey.
In addition, by knowing the specific content the user downloads, you can know exactly where they are in the buyer's journey. You can then use these behavioral cues to implement an automation framework that delivers the appropriate content to the buyer on demand.
Clearly, there's a lot you'll need to address before your customers start reaching for their wallets—but once they reach the end of the journey, they're much more likely to buy from you. In fact, HubSpot found that businesses who nurture their leads in this way make 50% more sales at a cost 33% less than non-nurtured prospects.
And even better: Once you put the upfront work and investment in, this content can generate returns for you for years to come.