Today's B2B buyers have figured out how to dodge and deflect the interruptive marketing techniques that were successful in the not-too-distant past. In response, vendors are turning to innovative inbound lead generation tactics to draw the interest of buyers who are on the web seeking answers to business problems.
Every time a buyer searches online for solutions to problems addressed by your business, you have an opportunity to capture that buyer's attention and acquire a viable lead. Your website serves as a magnet to pull in those buyers whose online inquiries align with your company's product and service offerings.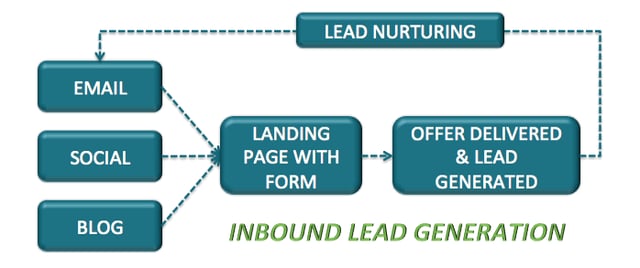 Focus on the 5 W's to
magnetize

your website and attract qualified leads!
WHO do you want to attract?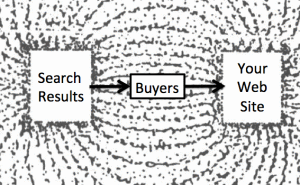 The goal is to generate the right website traffic, not just more website traffic. The right traffic consists of those who fit your company's Buyer Persona. Define this target group by carefully profiling the demographic and behavioral characteristics of your current customers. Prospects who share common traits with this Buyer Persona are more likely to convert to qualified leads.
WHAT
attracts

the right prospects?

Relevant content is the core of the magnet that draws the right website traffic. For best results, keep your content relevant to the target Buyer Persona to ensure it is highly applicable to your target audience. SEO, blog activity, and social media presence all serve as magnetic fields to pull potential buyers toward your website's content. Inbound links from other credible sources also drive prospects to your website.
WHERE are your prospects?
In order to attract prospects, you must identify the different paths that will lead them to your website:
Which keywords do they use when searching for solutions to the problems that are addressed by your business? Is your content optimized for those keyword searches?
Which social media platforms do they frequent? Members of the B2B community typically prefer LinkedIn and Google Plus to engage with their prospects through social media.
Which industry thought leaders do they follow? By engaging with these same thought leaders

on

social media, you gain credibility and create opportunities for prospects to discover your business.
WHEN does an anonymous website visitor become a lead?
Website visitors are drawn to your site's content. For those visitors who find relevance and value in that content, your website becomes a trusted source of information. Once you earn trust with the visitor and you have established educational value, you are well positioned to ask for contact information in exchange for new desirable content. The anonymous visitor implicitly grants permission for future communication by sharing contact information with your business, enabling you to begin the lead nurturing process. Provide numerous avenues for visitor-to-lead conversions through your website's landing pages, Calls-to-Action, and easily accessible options for direct communication via email, online chat, social media and telephone.
WHY is Inbound Marketing the most effective approach to lead generation?
Inbound Marketing methodology is centered on the inherent nature of organic search, which connects buyers to websites that offer content that is highly relevant to their stated online inquiries. Inbound strategies create the magnetic force necessary to point these motivated buyers in your direction. Your website content draws them in, and your lead nurturing engine keeps them engaged by providing a steady flow of content until they are ready to buy. The analytics produced by Inbound Marketing automation provide actionable data for fine-tuning your lead generation campaign in real time, resulting in greater numbers of sales-qualified leads.
To learn more about specific strategies for successful inbound lead generation, please download our whitepaper "9 Steps to Attract Qualified Leads for your Business".
If you would like to gain expert advice about how to start your Inbound Marketing program, learn how Bristol Strategy can Revitalize your Marketing Plan.
Bristol Strategy is a full funnel inbound marketing agency and inbound sales agency offering the full complement of services to enable our clients to surpass their business objectives by transforming the way they engage with their buyer on-line. Reach out to us to learn more about how our experience and capabilities can help your business grow.