Lead generation is absolutely vital for a business to thrive. Because so much of modern business takes place on the Internet, digital lead generation in particular is key.
There's a lot of advice out there about how to attract leads — some of it good, some not so much. While it's true there's no "one size fits all" approach to digital marketing and lead generation, certain strategies and techniques tend to work better than others.
In this article, we'll dive into what lead generation is all about in a digital marketing context. We'll answer the following questions:
What is lead generation?
What are some common lead generation myths that business owners (and others) believe?
How does the lead generation process work?
What are some popular lead generation strategies?
Let's dive in!
What Is Lead Generation?
As the name suggests, lead generation is the process of "capturing" or obtaining new leads — that is, prospects that may be interested in your product or service, and eventually become paying customers.
In the old days, lead generation was a fairly straightforward concept. Salesmen would travel door to door showing off their company's products; organizations would take out full-page newspaper ads to spread awareness about a new service they offered; marketing agents would "cold call" prospects that fit into a specific demographic.
Of course, with the advent of the Digital Age all of that changed dramatically. Nowadays digital lead generation is the name of the game. Before we go into detail about what this digital lead generation process involves, let's briefly dispel some commonly believed myths.
Lead Generation Myths Debunked
Here are a few misconceptions around lead generation that need to be cleared up:
Myth #1: The best way to capture new leads is outbound marketing.
Absolutely not! Actually, studies have shown that inbound marketing is 3 times more likely to yield a higher ROI than outbound marketing. In other words, "pull marketing" (inbound techniques that attract prospects, such as content strategy, content marketing, aligning content to the prospect's journey for information, and focusing on what information the prospect needs to find solutions) is known to be more effective at capturing leads than "push marketing" (cold calls, generic email blasts, and so forth).
Myth #2: Social media is ineffective in generating leads.
The truth is, social media is a tried and true method of capturing new leads. For instance, a study from Pinpoint Market Research found that 64% of B2B marketers generate leads through LinkedIn, 49% via their Facebook profiles, and another 36% through Twitter. Those figures aren't half bad! However, Bristol Strategy has found by observing lead generation across our clients that The majority of the high quality leads originate from organic search (google, Bing Yahoo) to educational content on the website. Consider the importance of social media as a way to reinforce your brand.
Myth #3: Lead generation can work without customer education.
In most cases, this idea is completely false. The reality is that the average customer is not going to immediately jump at the opportunity to buy your product, no matter how good or reasonably priced it is.
Customers need to know what's in it for them. They need to familiarize themselves with your brand. They need to understand what problems your product will solve — and the best way to convey your solution is through informative, educational content rather than blatant product promotion. Basically, there needs to be a certain level of trust in the relationship before they'll part with their money.
What this means for you is that a significant portion of your lead generation efforts should be directed toward educating your prospects on the offered product, the benefits it provides, and the reasons they should purchase from your company. The bottom line is that high-pressure sales tactics are typically no match for the well-researched, persuasively presented "soft sell".
Myth #4: No one ever fills out a website's lead capture form.
Ah, but people do! Granted, that number may be a subset of the overall influx of visitors to your site (some estimates place it at about 2% for total website visitors versus the number of leads generated). But that statistic does not tell the whole story because the conversion rate of an offer to a lead varies by which stage of the buyer's journey the prospect is in (see the description of the three stages below).
The graphic below shows aggregate data across several Bristol Strategy clients. The graph shows the conversion rate into a lead of an anonymous visitor of a particular landing page where they provided their contact information. The art is driving the right traffic to these pages.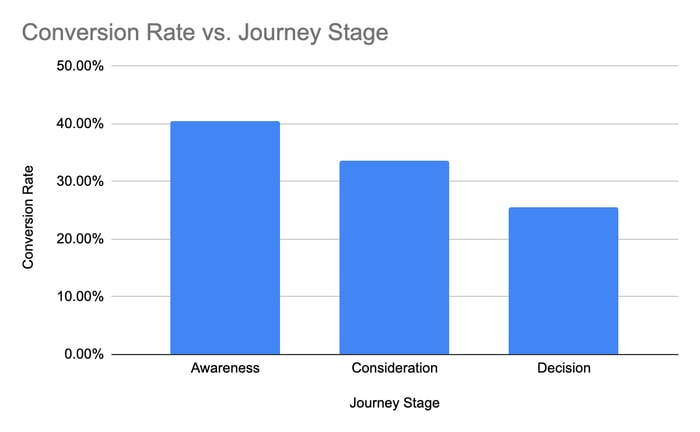 Still, lead capture forms are the most popular way to capture leads — and with some forethought and good design, your web forms can produce results above and beyond the status quo. (If you don't believe us, take a look at this list of high performing lead capture forms.)
Now that we've busted some myths, let's briefly discuss what's involved in the typical lead generation process.
How the Lead Generation Process Works
Perhaps the simplest way to think about the lead generation process is to compare it to the stages of the marketing funnel. That funnel (a concept of how prospects turn into leads, and leads into customers) has 3 main phases:
Awareness. A consumer becomes aware of a certain product or service. Perhaps he realizes that the product can solve a pain point he is currently facing. His interest is piqued.
Consideration. The consumer seeks to learn more about the product in question. He may compare similar products from competing companies, research features, or search out more detailed information on use cases.
Decision. At some point, the consumer decides that he needs the product. If all goes well, he purchases from the original advertiser — in other words,

your company.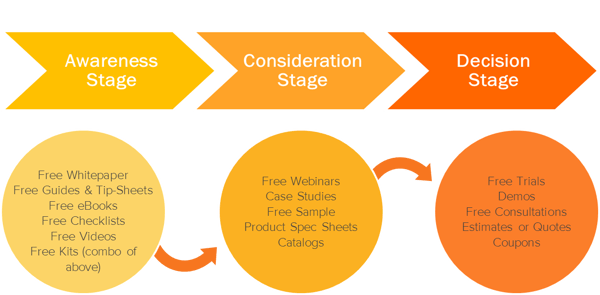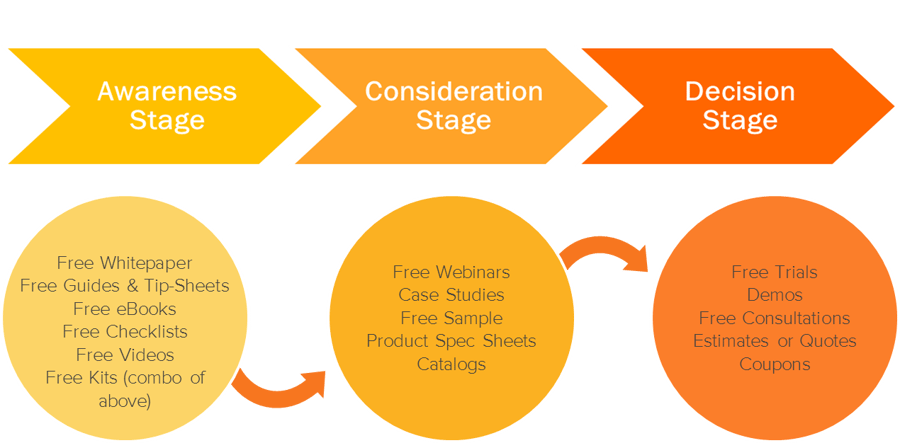 The lead generation process can encompass all three stages of the marketing funnel. Its ultimate purpose is to guide the consumer through the "buyer's journey" (i.e., down the funnel) until a purchase is made. Of course, it's important to note that different lead generation offers may yield a higher or lower ROI depending on the funnel stage to which they're aligned and how well the content aligns with their needs (see the conversion rates above). For instance, decision stage offers often convert at lower rates than awareness stage offers (when consumers are only receiving information, and don't have to part with their money).
Popular Lead Generation Strategies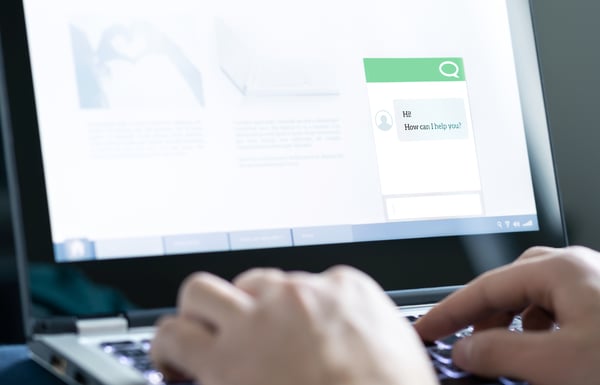 In order for lead generation to be successful, companies often have to develop and deploy lead magnets — in other words, free items or services given away in exchange for contact details. Basically, you have to give something up to receive something back. In addition, since each consumer is unique a business would ideally offer several options for visitors and prospects to engage with them.
With these points in mind, some popular lead generation strategies in use today include:
Gated content. This is content that is hidden, or half-hidden, and can only be fully accessed if the user provides his or her contact information to the company.
Chatbots/live chat agents. Many website visitors prefer the immediacy of chat to the long wait times that may be associated with lead capture forms.
Social media lead-ads. You can also engage your target audience via your company's social media presence, such as by optimizing its profile for a particular call to action (CTA). Most social media platforms now offer paid advertising that convert a user into a lead directly on their platform. These lead-ads can drive new contacts into your CRM database.
Website optimization. Many marketers have found that there are several factors that go into the creation of a truly successful website call to action. We're talking about the position of the CTA button, size, color, verbiage, and a host of other variables.
Lead Nurturing
Of course, the "generation" part of lead generation is only half the battle. Once you've gained a lead, you typically need to "nurture" it over a period of time before it makes the final transition to customer. This may require a balancing act: on the one hand, you don't want to come on too strong and scare off your new lead, but on the other hand you don't to lose TOMA (top of mind awareness) either.
When it comes to lead nurturing techniques, personalized email marketing definitely stands out. In this context, we're not talking about the delivery of "cold" email blasts to unsuspecting recipients. Instead, email marketing techniques that really nurture leads work because:
(A) the prospect has willingly opted in to receive messages, and,
(B) the contents of each message is customized according to the prospect's current stage in the funnel.
Leveraging Lead Generation for Continued Growth
We've only scratched the surface of lead generation theory, strategies, and techniques in this article. There is a lot more to discover, and a lot more to gain. Every company situation calls for unique strategies, when implemented together, can truly fuel sales growth.
If you'd like to learn more about how to implement effective lead generation tactics for continuous growth, explore our article that describes the 9 Steps to Attract Qualified Leads to your Business to guide you in this endeavor. Or contact us today to start a conversation.