SEO Marketing World states that an inbound link is one of the most important aspects of any searching engine optimization (SEO) marketing campaign. It backs up this statement by declaring that the number of quality inbound links on a page is the single biggest determining factor in how Google ranks a website. Since approximately 80 percent of people conducting an online search use Google, you can appreciate that quality inbound links are essential.
The definition of an inbound link is one found elsewhere on the Internet that brings users directly to your site by clicking on it. SEO Marketing World hyperlinked above is an example of an outbound link. We are directing readers there because we quoted the site as a source. If the organization hyperlinked something it had read at Bristol Strategy, that would be an example of an inbound link. As an online marketer, you want other websites to point people to your content as often as possible because this process helps to generate inbound traffic and a positive rating from search engines.
Why Is Link Building Important for SEO?
The more links coming into your site from authoritative sources, the higher search engine ranking you can expect. A good inbound link tells Internet crawlers that your site is a reliable authority on a specific topic. It's important to keep in mind that search engines don't rate all inbound links the same and that crawlers consider other factors when determining how to return results from an online user's query.
Another consideration is that reciprocal links don't carry the same weight as a one-way link to your site. This is where you agree to post a link on your website in exchange for the other party posting your link on their site. While any inbound link helps, aim to get multiple inbound links from highly authoritative sites.
Inbound links also provide you with referral traffic you might not have received otherwise. People reading a blog about a similar topic may be happy to follow your blog or product releases as well. However, they might not have found you anytime soon through search engines. This is one reason why quality links are essential to build your readership or customer base.
It's also important for the link coming into your site to use decent anchor text for hyperlinking purposes. Anchor text is a block of words either naming the source, as with SEO Marketing World, or highlighting a few descriptive words such as search engine optimization above.
Not all inbound links created equal
Not all inbound links are alike. Over time, websites gain authority as measured by search engines. The more a site gains inbound links and other parameters, the higher the domain authority. According to one of the best SEO websites, Moz, they describe domain authority like this:
"Domain Authority is difficult to influence directly. It is made up of an aggregate of metrics (MozRank, MozTrust, link profile, and more) that each have an impact on this score. This was done intentionally; this metric is meant to approximate how competitive a given site is in Google.com. Since Google takes a lot of factors into account, a metric that tries to calculate it must incorporate a lot of factors, as well."
You can measure your website domain authority using the Moz tools (links above) and many other SEO related tools you can readily search and find on the internet. In essence, it is best to gain inbound links from websites that have a higher domain authority than your site. Think of it like being lifted up by a friend. The higher the domain authority of the referring site, the more "juice" you site will gain from the link.
Strategies to Build Inbound Links for Your Website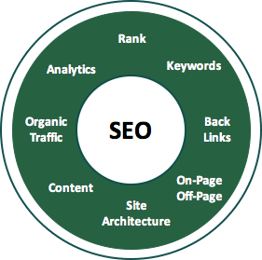 Some online marketers feel so desperate for inbound links that they resort to spamming other forums. This will quickly annoy the site owner and get you banned. It's much better to use several of the following legitimate link building methods of acquiring inbound links to increase your website traffic and domain authority:
Publish helpful and quality blogs on a consistent basis and ask people to share them on social media. You will soon develop a following of people willing to link to you without prompting.
Shop around to see where you can publish a guest blog post. Most website owners who accept guest posts allow the author to backlink to his or her own site. However, don't publish duplicate content that is already on your website. Make it unique and include link(s) back to your website. Duplicate content reduces the SEO value of the content on your website.
Stay on top of current events and aim to be the first to publish a blog post about new happenings. This wins you points with search engines for freshness and possibly links from other websites quoting your material.
Volunteer for sites like Help a Reporter Out as a source or sign up to be a case study on sites you follow regularly. While you don't usually receive payment, people who quote you in their own work should offer a backlink to your website and spend at least a few paragraphs discussing your business.
Monitor mentions of your brand that don't include a backlink and follow up with a polite request to include one. Setting up Google Alerts is an easy way to find out where others are discussing you online.
These are just five of potentially dozens of possible ways to receive backlinks. HubSpot provides 33 tips in this article.
Internal Links: The First Type of Link You Need to Implement Website SEO
We've briefly discussed outbound links as well as inbound links in detail. For the most effective SEO strategy, it's also essential to have several internal links, sometimes referred as on-page SEO. These are links that take readers from one page of your website to another. They help you establish authority for all the pages of your website and rank higher in search engine results. The best part is that you have complete control over the placement and anchor text of internal links.
The two most important factors for internal linking purposes are anchor text and sending readers to another page for more in-depth information. A good example of this would be listing your services on the home page with a link to individual pages that describe each one in detail. You will reap the greatest SEO benefit by focusing your internal linking efforts on one or two key phrases.
We typically recommend creating a target keyword for each static page on your website (static means, pages other than blog pages where the content is typically content) when creating your site SEO strategy. By establishing the primary keyword for each page, when you blog, you can use the target list to link back to your other site pages. If you are updating a site that already has a blog, be sure to go back and instrument each old blog post with the new links where they naturally fit.
We hope this information has been useful to you. Here is a valuable and free eBook resource: The SEO Myths to Leave Behind. If you want to learn more, please also check out the Digital Marketing Resources page and the additional articles that are listed below that provide in depth information from other sources.
Even more SEO resources for you to review
Bristol Strategy is a full funnel inbound marketing agency and inbound sales agency offering the full complement of services to enable our clients to surpass their business objectives by transforming the way they engage with their buyer on-line. Reach out to us to learn more about how our experience and capabilities can help your business grow.