There's no question that social media is a major component of our social fabric. We can all probably count on one hand the people we know who don't use social media in some form or fashion. The number of individuals who engage with social media on a daily – heck, sometimes even hourly – basis is growing exponentially every year. In a recent survey, marketing executives reported spending a fifth of their marketing budget on social channels, and they anticipate increasing spend on these channels from 11 to 19 percent over the next five years. Yet even as their investment in social channels continues to grow, marketing executives report that a key challenge is understanding how to effectively use social media to positively impact company performance.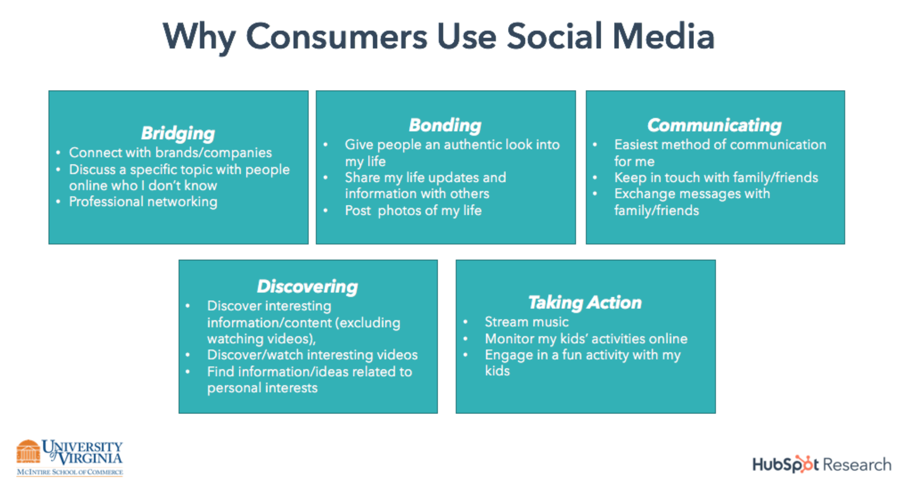 Social media research and consulting firm Hubspot recently issued a report on consumer engagement with brands on social media and the insights it provides is eye-opening. Their research revealed three basic types of action consumers take when they encounter brands or branded content on social networks: brand investigation, brand advocacy, and content-blocking.
Of course, individual's motivations to use each social platform vary and, in turn, drive different behavioral responses to brand content. But despite the variety of motivations, they can be broadly divided into five fundamental categories:
Bridging This is an early-stage activity consumers engage in to connect with organizations, discuss specific topics with others, and network.
Bonding is the online process of sharing information about one's life – posting photos, sharing personal updates, and giving others a glimpse of one's activities and interests.
Communicating Many social media participants use various social channels as a means of communication with family and friends. Considered more convenient than phoning or emailing, social media is used for exchanging messages, coordinating calendars and schedules, and generally touching base.
Discovering Many consumers use social media to explore a variety of topics, interests, and products. They use social channels to find information, ideas, and content as well as to discover and watch interesting videos.
Taking Action This includes what might be considered "real time" activities – streaming music and videos, monitoring the home and kids' activities, and engaging in family fun activities online.
Hubspot's research uncovered the primary benefits of the six major consumer social platforms for marketers:
Facebook: Use Facebook to communicate on a one-to-many scale with your audience and invest in advertising to facilitate broader brand discovery. Pushing people to outside websites or landing pages is not advised.
Facebook Messenger: Messaging applications are fairly new channels for marketers to leverage. Their use case is clear and brands can use Messenger to have personalized one on one conversations with their audience.
Instagram: Users on Instagram primarily use the network to bond with their followers (by sharing details and images about their life) and discover new trends. Create broader content that incorporate lifestyle interests for Instagram.
Snapchat: Snapchat is primarily used for bonding stories and for communication.
Twitter: Users on Twitter want to discover new brands and content, and network with the brand, like-minded users, and other customers.
YouTube: People flock to YouTube to discover new ideas, stories, and offerings.
Another interesting finding in the Hubspot study is that the five different motivation categories do in fact drive varying behavior towards brand content. In addition, the study reveals differences in how the five motivation dimensions affect consumers' behavioral responses to brand content. For example, when consumers use a platform for Bridging and Discovering, they are more likely to respond to brand content than when they use a platform for Taking Action or Bonding. Communicating actually reduces response to brand content. This results in some social channels performing better than others at facilitating specific types of behaviors.
Developing your social media game plan
As you can see, the breadth and depth of social media engagement by both professional and retail consumers is complex and evolving. Whether you're a B2C or B2B business, developing a comprehensive social media strategy is essential for any marketer who wants to approach social media marketing in a meaningful, effective, and cost-efficient manner.
Critical to the implementation of an effective social media marketing program is the creation and integration of appropriate content. Different topics, formats, and elements are necessary based on the social channels selected for use – the audiences for each channel consume content differently. Once again, the study shed light on consumer preferences. It shows that people not only generally prefer different types of content as a function of their reasons for using a platform, but their behavioral response to brand content is driven by these various motivations. Social media platforms, as the old saying goes, require "different strokes for different folks."
One of the biggest challenges we face is creating the right content for the right channels. We've found that audience expectations vary from medium to medium, meaning that you need to tailor each piece of content to the specific needs of that channel. What drives engagement on Facebook won't evoke the same response on Twitter. Understanding those differences, and having a framework in place to address them, is crucial to achieving a high ROI on your social efforts. - Kipp Bodnar, Hubspot CMO.
Here at Bristol Strategy, we work with clients to include social media as an essential element of a productive digital marketing program. So if you're looking to maximize social media for your company, we can help.
We support social media platforms such as Facebook, Twitter, Google+, YouTube, Pinterest, Instagram, LinkedIn and others based on the preferences of your primary buyer persona. We can help you select the right social channels for your business goals, develop content to optimize your outreach, and establish a social calendar around industry events to proactively engage with event participants and create awareness for your brand. To learn more, reach out to us about our social media strategy and plan services.
Bristol Strategy is a "full funnel" inbound marketing agency and inbound sales agency offering comprehensive Inbound Marketing services that enable our clients to surpass their business objectives by transforming the way they engage with their buyers on-line. Reach out to us to learn more about how our proven processes can help your business grow.