You may be wondering, how can social media marketing help your business? That question is not uncommon. Many business leaders just do not believe that social media can help them at all, or very little. After all, isn't Facebook for sharing pictures of the grandkids with grandma? Facebook is the most popular social media platform measured by the number of monthly active users (currently more than one billion). This article is not just about Facebook. It is intended to provide businesses with a set of resources that help them learn from others about social media tactics that work and those that do not so you can form your social media strategy and plan.
When you think about the digital marketing options you have to reach prospects, they are:
Organic Search - by providing quality content on your website that ranks in search (Content + SEO)
Direct Email - to clients or prospect lists as part of an outbound campaign or lead nurturing program
Social Media - by sharing valuable content or premium offers into social channels and groups where your prospects spend their time learning and interacting
Paid Search - all of the variations of it including Pay Per Click, Retargeting, Video marketing, and more
Public Relations - develop articles for news and blogs sites with links back to your website
On-Line Reviews - of your product or service to gain a flow of qualified inbound opportunities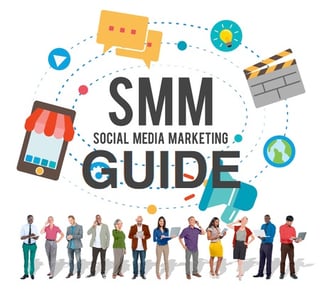 Several of these options have an immediate payback and others take time to develop. Most CMOs understand that content is the fuel that drives inbound marketing campaigns. Your hosted digital content plays multiple roles, starting with enabling your business to rank for keywords and attract the right prospects through Search Engine Optimization (SEO). It is also used as a valuable offer to share in social media marketing channels.
Social media and digital paid advertising can have an immediate effect to driving traffic and leads. The social media strategy involves sharing valuable content into the social channels (Facebook, LinkedIn, Google+, Twitter, Pinterest, Instagram, etc.) and groups that your prospects are most likely to visit. Each social media channel has value to each market in different ways. For example, for B2B businesses, consider LinkedIn since most employees use LinkedIn and monitor social activities on it. Facebook is becoming increasingly important for business as well since their advertising channels distribute ads beyond the Facebook property so you should include it in your social media plan.
Social Media has additional value as a way to interact with prospects. When customers reach out to business over social media, they expect a response. Modern digital marketing tools enable companies to monitor automatically discussions about your business on social media allowing you to have a productive two-way conversation that is both responsive and timely.
Social media is an essential element of any digital marketing strategy that every business should embrace. Each part of your digital marketing plan has different rates of return, so a blended approach is necessary to generate traffic and leads to your business.
There is a lot of content that is available on social media. We thought it would be valuable to you to gain insights about how to approach social media for your business, so we are sharing these articles as a resource with our commentary:
Bristol Strategy is a full funnel inbound marketing agency and inbound sales agency offering the full complement of Inbound Marketing services that enable our clients to surpass their business objectives by transforming the way they engage with their buyer on-line. Reach out to us to learn more about how our experience and capabilities can help your business grow.