Creating a new website can be a double-edged sword for your business. You want the vibrancy and energy that a new site will create both internally and externally, yet you dread the burden of ensuring that all components are going to work together to generate leads and business.
Modern websites have to be efficient, engaging, stunningly beautiful, easy-to-navigate, memorable, responsive, on-brand, colorful, emotional, etc., etc. You get the idea. But don't worry. You can head into your new site creation with confidence when armed with information about some of the biggest design challenges to be faced. We've identified the 10 biggest challenges and offered ways to address them in this article.
1. Scattered information flow. You need to give your visitors a clear path to navigate your site. Sometimes there is just too much conflicting content and visual stimuli for the reader to make a logical decision so they just abandon the page. To prevent this from happening, start the website design process with a purpose map (sometimes called a wire frame with message flow) that specifies the information flow with the accompanying information for each page. And to make things even easier, be sure to get buy-in from stakeholders before starting.

2. No clear messaging or positioning. Just as you need to give visitors a clear path on your site, you must also give them clear messaging about your brand, products and services. Don't make your readers work to understand who you are and what your brand stands for. Develop the foundation of a positioning and content strategy that differentiates you and your products. And then stick to it. No matter how much you are tempted to throw in everything about yourself, stick to the core communications messages for clarity and efficiency. Remember, your website visitors must instantly understand what you do or what you stand for when visiting your website.
3. The site isn't responsive. Your site has to work in any format—desktop, tablet and mobile—because your potential customers are everywhere using all formats, especially smartphones. When a site is optimized with responsive design, the content will be formatted to appear with the proper adjustments to accommodate the screen format. This consistency leads to better customer engagement, sales and conversions so it's critical to make the responsive adjustments when creating a new website.
Pro Tip: Check to see if your website is responsive with this Google responsive testing tool.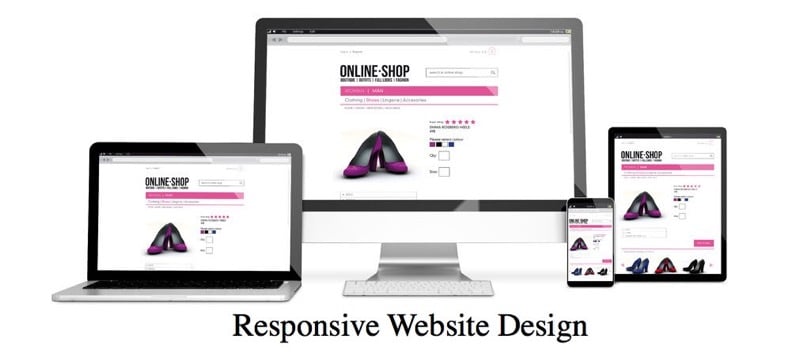 4. Style components are outdated. Nothing says old and tired website more than style elements that are clearly out of date. If your site is cluttered with bulky navigation, unending copy blocks and old stock photos, it's definitely time for a refresh. Modern website design incorporates engaging imagery, distinctive fonts, elegant navigation, generous white space and more as fundamentals of current website style and function. Modern websites also tell the story of your business, product, service or cause in long flowing pages that nurture a visitor down the page to consume the story.
5. Tired stock images. Part of modern website design is the use of large, hero images to engage visitors and support a company's brand story. Many times, stock images fit the bill perfectly and are much more budget-friendly than custom photography. However, stock images can look dated in clothing and hairstyles of models and other elements.
Plus, if you particularly like a stock image because it works well for your business, chances are pretty good that another company (several, actually) will also like the image and decide to use it on their site. When viewers see this image on more than one site, it erodes authenticity and trust in your company.
It's always a good idea to rotate images periodically to minimize the risk of tired and overused stock images. One way to address this issue is as simple as using your cell phone to take pictures each day. As you build up your image library you have a differentiated set for your website. Simple image editing tools enable you to add text to images to help reinforce the point of the image on the page. The following picture is a great example of this technique. I took this picture of a sunset on Marco Island, FL. I was able to crop the photo and add text to it to make the point that there is always a time when a website should be updated.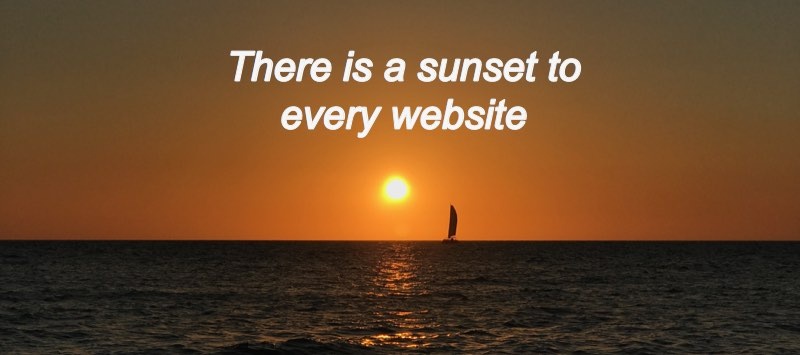 6. Site doesn't reflect your buyer persona. A website must adopt a style and tone that engages visitors and customers appropriately. For example, financial institutions won't do well by using swirly fonts and bubblegum pink navigation bars, however, those elements might be perfect for a cosmetics company site. The main thing is to understand your audience and create a style that will immediately appeal to them and encourage them to engage.
Another important consideration is to consider the benefit of the use of "smart content" on the site that changes the content based on which buyer persona is visiting. For example a CEO may need different content than a marketing manager or a sales representative. By personalizing the content dynamically, the visitor becomes more engaged and will have a much better perception of your brand.
7. A lot of gimmicks don't make you modern. In attempts to add interest and appeal, too many companies add gimmicks and style elements that just end up cluttering the space and confusing the reader. Some guidelines to keeping it simple include maintaining a consistent color theme throughout (brand colors are always appropriate), stick to three or four colors and limit font choices to three or less. And resist the need for lots of navigation complexities which usually work against a good customer experience.
The best approach is to work with a designer with a keen eye to colors that fit your brand. We have learned that selecting website colors is an art form so ask for help because selecting the wrong colors may have a negative psychological impact on your brand. Here is an example of 50 website color schemes - but be sure to focus on your logo and brand colors as a starting point.
8. Core information is too hard to find. Your primary website goal is to interest people enough that they want to engage with you. So don't make it hard for them to find you. Make sure your basic contact information is not only current but also easily accessible on your site. Too many times a company address, phone number, hours of operation, shipping policy, FAQs and more are buried or not available at all. Encourage people to contact you and give them the means to do it easily.
9. Customer information isn't captured. Too many times, companies invest lots of money into marketing initiatives to drive people to their sites, yet they neglect to implement any method to capture the information of customers and other visitors when they get there. This loss of a potential lead or sale means that the company now has to invest even more marketing dollars to try and pull in new leads.
There's a simple—and less costly—way of capturing all the potential sales possible by designing an opt-in offer on the home page. It can be something simple like an instant discount or access to an e-book or more elaborate such as a contest giveaway. Do what will engage your buyers, while remaining true to your brand, and don't let another visitor slip away unnoticed and without opting in to your communications.
Bonus Offer: Download the free eBook: The 30 Greatest Lead Generation Tips, Tricks and Ideas.
10. Ignoring analytics. One important, yet overlooked, challenge with website design is not establishing the site's analytics through an analytics program such as Google Webmaster Tools. Too often, running a site's analytics falls to the wayside and a company loses the opportunity to make critical changes that could dramatically improve its effectiveness. The Google webmaster tools give you a way to identify errors on your website and correct them as well as make sure the website sitemap is published properly.
Another important method of measuring how well a site is performing is by drilling down into the site data to see how visitors are engaging—or not. With integrated website analytics, you can use tools to point out pages that are not performing well, analyze conversions and also test elements such as promotions and banners. Be sure to use analytics that provide you with visibility down to the visitor level so that you can optimize the conversion paths that are working and fix conversion paths that are not.
Having the option to course correct can mean the difference between a thriving business or a floundering one. Analytics aren't the sexy parts of a new website but they're the guideposts to keep you from flailing. So, test, measure, optimize, repeat. Your business will thank you.

TWEETABLE TIP
Creating a new website design can be a challenge for your business. You want vibrancy & energy that a new site will create. Learn to avoid the pitfalls, read the 10 Biggest Website Design Challenges and How to Solve Them.
Summary:
The road to a new website is hardly ever a straight one. Even as you work through some of these challenges, you'll be faced with others such as keeping your efforts on track during the site development phase. Everyone gets excited as they see the site begin to take shape and will tend to make ad hoc design and content change requests. This can not only impact the website objectives, but can also put dents in your timeline and budget.
So, always be honest with yourself about throwing a wrench in the works when you're full steam ahead. Get buy-in up front and utilize change orders as well as budget revisions when things deviate from the original plan. You should also make your life a little easier by using a Content Management System which accommodates changes easily.
There will always be challenges when working on a creative endeavor like a new website, but when you know some of the possibilities ahead of time, it's easier to stay on task, on time and on budget. Reach out to us if you are contemplating a new website design. We would love to help!
Bristol Strategy is a full funnel inbound marketing agency and inbound sales agency offering the full complement of Inbound Marketing services that enable our clients to surpass their business objectives by transforming the way they engage with their buyer on-line. Reach out to us to learn more about how our experience and capabilities can help your business grow.
Web design process image copyright: marigranula / 123RF Stock Photo
Responsive website image copyright: georgejmclittle / 123RF Stock Photo