Is your website a bit tired? Downloading the 25 'Must Haves' eBook to assess strategies and tactics to bring your website up to date so it is performing at its best for your business.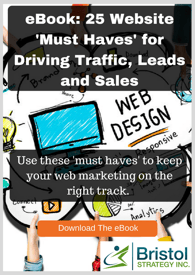 This 53 page eBook covers these important website topics:
Part 1: How to get found online
Part 2: Website Design & usability
Part 3: Content tips
Part 4: Conversion of visitors to leads
A summary to plot your path to success
Use these 25 'Must Haves' as a guidepost to keep your marketing programs on the right track. Even if you implement a subset of these website tips, it will be well worth it!
Download this free eBook instantly by completing the form to the right