Implementing Sales Funnel Automation has become a must-have resource for sales teams in a world with fickle prospects. Gone are the days where you could count on cold calling alone or advertisements to generate opportunities for your business. Interrupting tactics are quickly losing ground with prospects who can now do much of their research before purchasing.
Today's customer is looking for value, new information, and expertise. Providing value for them with each touch generates trust and is the core of the Inbound methodology. Automating the Marketing and Sales funnel for each prospect type (buyer persona) and product or solution enables marketers and sales attract, nurture and close deals faster and ensures business do not lose track of prospects.
Bonus Sharable Infographic: How To Find Customers, Generate Leads, And Close Sales
During a recent discussion with an senior sales representative, he stated that it is not only the fit of the product that matters, it is also the timeliness of the solution to the needs of the prospect that impacts sales success. Sales funnel automation enables sales teams to stay in touch virtually, while delivering value until the prospect has an urgency of need or when the sales person is able to convert their latent pain to pain to increases the priority of the purchase.
This next chart is from the State of Inbound 2017 report demonstrates what sales teams believe is more difficult today versus two to three years ago. The categories in green relate to prospect outreach and responsiveness.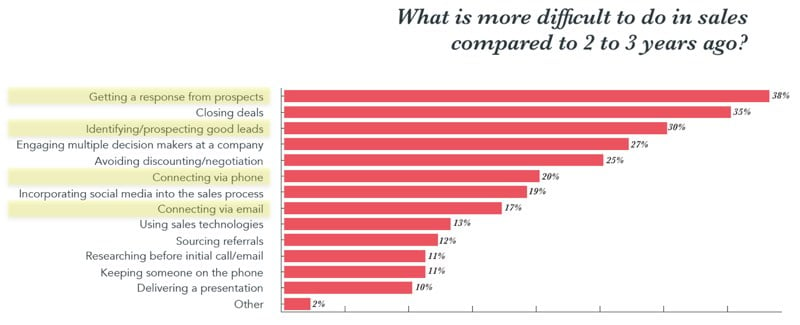 The Resourceful Customer
The average customer does 66% of the product research and searching for customer reviews before even talking to a sales rep. By 2020, that ratio is expected to be 85% according to Gartner. The recent State of Inbound report (chart above) found the number one item that sales teams find harder now than 3 years ago is getting a response from prospects.
To understand how different today's customers are with their wealth of digital information, consider this:
It is also important to note that because of the consumer's desire to self-help in the purchasing process, Super Monitoring found that not optimizing your website for a mobile device is akin to closing your company an extra day out of the week. This is how important your customers find available information and what helps them make a purchasing decision before they even talk to a sales team.
Informing Without Interruption
Disruptive tactics like, pop-over advertisements, internet banners, cold calling and email blasts, are often seen by prospects as annoying. They are well versed in ways to ignore and avoid mass marketing tactics. Your company must provide the means for prospects to conclude on their own that your products or services are right for them. This approach supports sales outreach because prospects always check your website when a cold (or warm) outreach occurs.
Marketing Can Support Sales Through Demand Generation:
Demand generation is the set of activities that drives the flow of leads into the top of the marketing funnel and nurtures them to a discussion with sales. When implementing Inbound Marketing, these leads are warm by the time they engage with a sales representative enabling them to be the consultative partner and delivering high value while building trust. This list of tools enable the marketing to implement demand generation effectively.
Blog Content – Valuable posts that sit waiting for a user to need them, expanding your website's reach with search engines and displaying your professional expertise.
Social Media Interaction – Speaking directly to an audience who has chosen to follow your company by providing content, professional contact and insight.
Search Engine Optimization (SEO) – Creatively getting your website to come up high on the list of organic search results when potential customers are looking for a solution to a problem.
Email Marketing – Very different from email blasts, email marketing is an opt-in/opt-out resource that allows your business the opportunity to provide valuable articles, updates and opportunities in a way that is optimized for their needs and nurture them to the next stage of their need for information.
Premium Content – When a blog is not detailed enough to describe a solution or delve into a problem, consider a long form content piece like a white paper or eBook as an offer and ask for contact information in return for access.
Paid Advertising - Social Media platforms have moved beyond just sharing images of your favorite event. They have become highly targeted advertising platforms that can zero in to attract your best prospect. Whats more, with specialized tracking code on your website (called a tracking pixel) they can also be used to "Retarget" visitors who visited your website but did not purchase from you. We always recommend that you refine your conversion paths for leads before investing a lot in paid advertising just to be sure you investment is optimized.
What is Sales Funnel Automation?
In the past, nurturing a sales lead meant making phone calls, mailing information, and being prepared to overcome an objection at each stage of the buying cycle. With marketing funnel automation, you nurture the lead from one stage to the next with automated opt-in emails and useful content that inspires them to move forward. For example, assume that you offer a free eBook to a prospect while he or she is in the process of diagnosing their problem or looking for solutions (called the Awareness stage of the buyer's journey). The eBook educates your contact while spurring him or her on to considering your business as a potential solution. (called the consideration stage of the buyers journey) They are researching your ability to address their needs.
Prospects do not always progress through your process in a linear way. As the diagram below shows, the demand generation that the marketing team puts in place will attract visitors and convert them into leads. While a lead, they will nurture them until they become qualified through behavioral signals or by asking for contact. Sales speaks to these "qualified leads" and sometimes they are ready to engage but others are not. The opportunities that are not ready continue to be nurtured until ready. This approach keeps your company on the top of the mind of the prospect until they are ready to buy.

Useful Tip: Use marketing automation tools as a way to automate how your content engages with prospects
The content that you offer to prospects can come in several different forms.
Publishing a regular blog helps them find the information they are looking for while also establishing your company as an industry thought leader.
Marketing emails are also effective because they provide product updates and other valuable information on an opt-in basis.
Interaction via your company's various social media platforms is a fun and non-threatening way to make initial contact and then begin the nurturing process.
Your content should be as interactive as possible to stand out from the competition, provide real value to your prospects, and present information in a unique way. Most importantly, this type of content is more trackable compared to static content such as a PDF file. Video marketing is a fantastic way to add personality and interactivity to your marketing efforts. Video is also a great medium because it can communicate a lot of information in a very short time but also is inherently optimized for viewing on mobile devices.
A "Lead Magnet" Converts Casual Visitors Into Leads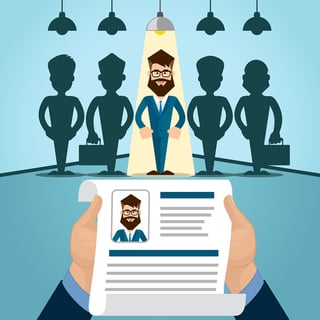 The top strategies all have this in common: they allow the customer to do the searching and provide the resources that attract new leads. Think of your published content like a magnet; with very little work, your company puts out information that converts visitors into leads for your sales team. These magnets are called Awareness-Stage content since they are educational and address problems and answer questions.
The incredible benefit of this process is that your customer comes looking for you! Rather than have your sales team spend their time calling leads that might not pan out, you will have a well-developed website, articles and emails that do the nurturing work for you. This automated process allows your sales teams to spend their time speaking to warm leads or helping those who are ready to purchase.
The Flow of the Automated Funnel
As the awareness-stage content (blogs and first eBook) works as a magnet, buyers search for a solution to the problem they face. As they consume the awareness-stage content they learn about how you define the problem and best-practice solutions to their problem. The automated funnel nurtures the prospect using emails that answer common questions the persona has early in their research process. These nurturing emails tease the prospect to consume the consideration-stage content.
Consideration-stage content is about your business. It positions your business in a differentiated way while being educationally crafted. As the prospect experiences your company information in the eBook and website pages, they learn why your approach is the best. While they consume this content, the nurturing emails tease the prospect to convert on a valuable decision-stage offer by addressing common objections.
When the buyer reaches the decision-stage, they have already done much of their research to figure out the way they want to address their need and have reviewed your company information. This is when your sales team wins customers by answering difficult and in-depth questions honestly and convincingly.
This diagram shows the content marketing and nurturing lead engine for a particular problem targeted to a particular buyer persona.

Challenges When Automating the Sales Funnel
You have so much on your plate already that even thinking about getting a marketing or sales program started can feel overwhelming. On the other hand, you know that neglecting this crucial aspect of business growth could put your business at risk. Running a business is difficult enough, but your challenges go beyond that. Business leaders struggle to determine which marketing and sales tactics are best for their company and how to apply automation so their business will gain operational leverage to make their team more effective.
Some of the automation challenges are:
The most effective ways to capture contact information from website visitors
What criteria a prospect has to meet in order to be considered a qualified lead
Where and how often to place a call-to-action on your website
What type of content is most effective for your audience and how to craft it to adhear to the buyer's journey
When and how to run an A/B test on an email campaign along with deciding which customers and prospects should receive each email
The best strategies for reaching people at each stage of their buying cycle (buyer's journey)
Do these challenges sound familiar? It's what you decide to do from here that determines your future success. After all, most businesses don't have the resources for each aspect of marketing or sales nor do they have the time to do it themselves.
Sales Pipeline Automation Improves Productivity
Rather than devote an employee to the sole task of creating an automated marketing and sales model, many companies search for a trusted resource to help them automate their funnel for them. That is exactly the kind of work we do at Bristol Strategy – creating strategies and tactics and combine them with automation that wins customers for your business. Download the 8 Steps to Attract Qualified Leads for your Business eBook to learn how we do it and reach out to us for help automating your marketing and sales funnel.
Download the State of Inbound 2017 Research Report to learn how businesses like yours are addressing common marketing and sales challenges.
Bristol Strategy is a full funnel inbound marketing agency and inbound sales agency offering the full complement of Inbound Marketing services that enable our clients to surpass their business objectives by transforming the way they engage with their buyer on-line. Reach out to us to learn more about how our experience and capabilities can help your business grow.