Video is something no other medium can boast: It can tickle the senses with sight, sound, motion, and emotion. Videos can make you think. They can make you smile. They can make you cry. They can motivate you to take action.
Consumers now have such easy access to online video and B2B marketers are doing some amazing things with video that are changing the way businesses interact online.
Video Demands Attention And Drives Conversions
An optimized video increases the chance you will land on the first page of search by 53 percent. Using the word "Video" in the subject line of emails can increase email open rates by nearly 20 percent. If you are driving people to landing pages, video placed there can increase conversion rates by as much as 80 percent.
Video is powerful. You know the old saying that a picture is worth a thousand words? Dr. James McQuivey of Forrester Research put it this way: "A minute of video is worth 1.8 million words." That may be a bit of an exaggeration, but the facts show video moves people. For B2B decision-makers, it moves them to action. 52% of consumers report watching videos makes them confident in purchase decisions.
How to Get Started with Video
In this video, Dave describes how to get started with video marketing.
You know that content strategy is a critical element of making Inbound Marketing work for your business. Once of the important points that Dave makes is to leverage your content strategy when creating each video. Make sure the video answers a question or otherwise provides value to the audience.
Another point to remember is that depending on where (which media) you plan to publish the video, user created videos may be good enough. Video captured with your cell phone in a place of business or in the field can help to bring out the human side of your company and create an engaging experience for your audience.
Creating Effective B2B Videos
The key to making effective business videos is authenticity. If it sounds like an overt sales pitch, it likely won't get traction. Four types of videos have the most impact when it comes to B2B customers: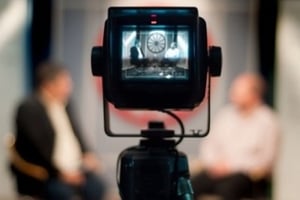 1. Case studies show how other business made smart decisions by aligning with your company. By demonstrating how you were able to solve other people's problems, you are taking your claims out of the theoretical and into the real world. It can help give B2B viewers confidence that others have been successful working with you.
2. Customer testimonials also build trust. Letting real people tell their own story in their words can be a powerful endorsement for your company. Even if they say the same words you would, it will come across as more genuine.
3. Product and Service videos can provide a more detailed look at how your products or services work and let customers get familiar with them. Nearly two-thirds of users that watched explainer videos about a product made a purchase.
4. How-To or Explainer videos serve multiple purposes. They can be a powerful tool to help you rank in search. If people are searching online for a solution to their problem, having a video that solves their problem is a great way to demonstrate your expertise and position your organization.
The Four Steps To Creating Quality Content
When potential customers view your video, they will be making judgments about your company. A poorly produced video will not make the impact you want. Professionally produced video send a quality message.
Here are the 4 steps to create & market quality video content:
1. Research Your Target Customer
If you've been in business for a while, you likely have access to information about who is your target customer and which customers are more likely to convert. As you are developing your video content, you want to keep this target customer in mind and talk directly to them. Most marketer's describe this understanding your buyer's persona.
2. Set Measurable Goals
It sounds basic, but you need to have a goal in mind before you start the creation phase. Is the goal to drive people to a landing page? Is it to click on a live chat, send an email, or call you? Are you trying to get people to buy right now? Each goal will require different tactics. Are you trying to get people to know your name and what you do?
It's really the only way you can measure effectiveness. Forget all the vanity measurements such as likes, if it doesn't meet your goal, the video isn't effective.
3. Tell Your Story
Facts Tell. Stories Sell. People want to believe the may decisions using logic, but research shows that we make decisions more often with emotion and then use logic to justify our decisions. With video, you can convey emotion and tell stories more effectively than you can with a written word.

Tell your brand's story, the story of your product, the story about a customer that used your service effectively or find a unique way to convey your message. Stories work.
4. Market Your Message
Great content that nobody sees is an expensive proposition. Once you've created the right video, you've got to get it in front of the right people. Use all of your digital assets, including your organization's websites, apps, and social channels.
Consider embedding the video in a business email, boosting on LinkedIn or Facebook to target key decision makers. Both having effective tools for audience targeting to narrow your reach to the right people.
Take the time to write engaging descriptions for your video, paying attention to the title and the metadata (descriptions) that people will see immediately beneath the title in search. These help to get clicks and help with overall SEO (Search Engine Optimization) for your website.
Use your CRM (Customer Relationship Management) software to identify and contact key targets. Use your email database to distribute your videos. Consider paid search and advertising in high authority locations online and in traditional media to drive people to your videos.
Pushing Customers Through The Sales Funnel
Different videos will work at different stages of the customer buying journey. Content marketing, whether it takes video or other forms, attack the different stage of the buyer's journey..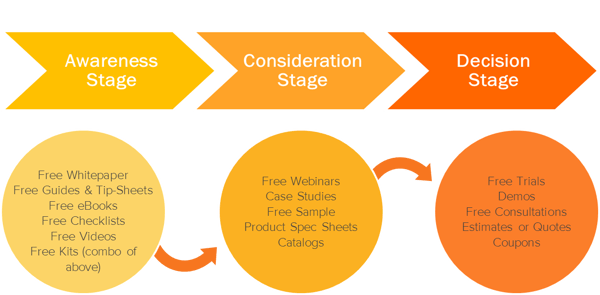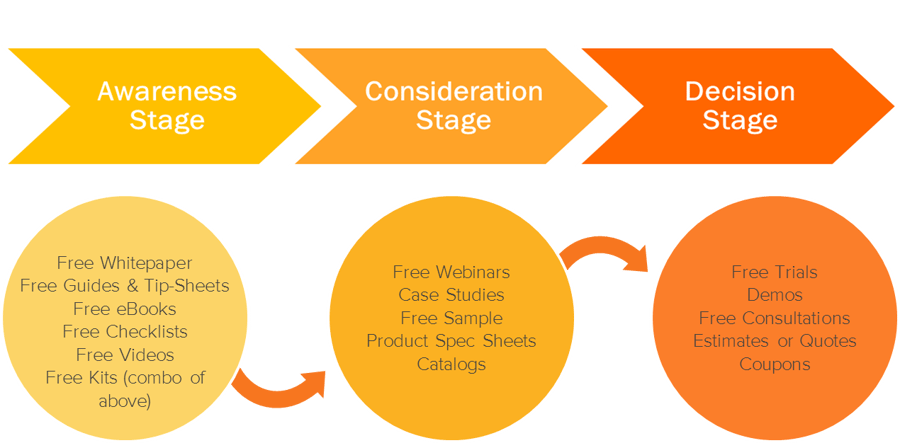 Unless your business is already a household name, the first thing you have to do is get on a potential customer's radar. The awareness phase, you are showcasing who you are and what you do. You will create content that helps users associate your brand name or products with quality.
Before customers will buy, they have to know who you are and shows an interest in what you offer, the consideration stage. They are likely researching solutions online before ever reaching out to anyone. You want to build confidence that your solution is a good choice and nurture their interest.
In the decision stage, customers are actively considering making a purchase. They may have decided they need to act, but they may not yet have made a decision which company deserves their business. But they reach out to one or more companies to learn about them.
When they are ready to buy is when the most direct sales techniques will surface, showing how your company is the best solution for their situation.
Developing content with the buyer's journey in mind is an extremely effective way to position your organization as potential customers make purchase decisions. Video has a role in each of these stages and in the sales process as well. When you created your content strategy, you defined content for each stage. Just be sure to make some of the content with video or add video to blogs or other assets.

TWEETABLE TIP
Video is something no other medium can boast: It can tickle the senses with sight, sound, motion, and emotion. They make you think. They make you smile. They make you cry. They can even motivate you to take action.
VIA @dorecchio

Video Marketing For B2B Buyers Is Effective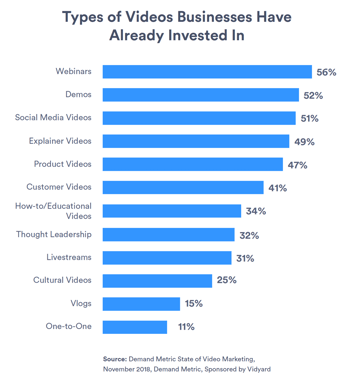 Producing high-quality B2B marketing videos takes time and money. It's not cheap to create great work. 83 percent of marketer say video gives them a solid ROI and that number is increasing each year.
B2B buyers are doing more research online than ever before. In fact, B2B decision makers are already 57 percent of the way through the buying process before they ever talk to a sales rep. That means you need to get their attention, interest, and desire much earlier in the process. If you wait for them to make contact, it may never happen.
C-level Executives and other B2B buyers are watching video more than ever. 70 percent of B2B customers say they watch videos as part of that research. If you're not creating marketing videos, you're missing out on potential customers.
Next Steps
Looking to learn how to improve the delivery and engagement of your B2B marketing videos by using your marketing automation platform? Download the eBook titled "Using Video With Marketing Automation" to learn how. You will learn how to effectively gain more (conversion of website visitors into contacts) leads by effectively using video with your marketing automation platform.