According to a recent study, 75% of video viewers report that they will click through to a website after watching a high quality video. It's clear that video is an effective tool for engaging with digital consumers, but only if it's done right.
Producing high quality video content that generates customers for your business doesn't necessarily require a huge budget. What's really needed is a solid video marketing plan. There's little use throwing money at video production if the video content doesn't help you to achieve your business goals.
Before you even think about writing a script for your video or approaching a videographer, you need to consider the following:
Goal of the video marketing campaign
Available budget, potential return, and viability of investment
Video type or style
Distribution strategies
By looking at each of these factors in detail, you can develop a video marketing plan that will set your video campaign up for success from the very start.
Define your goal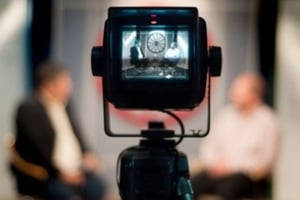 Video marketing is such a valuable tool because it's versatile; it can support your overall marketing strategy in a huge variety of ways. However, this can be a double-edged sword.
If you try to achieve too many different goals with a single video marketing campaign, the campaign is going to lack focus. You'll struggle to communicate calls to action to your audience, and you'll have a difficult time measuring the true success of a campaign.
First things first, decide what you want to achieve with your video campaign. Your goal might be any of the following:
Raise brand visibility and awareness
Increase audience engagement
Lead generation
Boost sales
Once you have a goal in mind, you'll have an easier time figuring out other crucial aspects of your video marketing strategy: budget, video type, and distribution method.
Create a budget
The cost of video marketing can range from several hundred dollars (pounds for our UK clients) to thousands of dollars or more depending upon the channel (more for TV advertising video). It's absolutely possible to make incredible marketing videos on a tight budget, but it's very easy to allow costs to spiral out of hand, too. Establishing a budget early will ensure that you don't get swept up in designing video concepts that your business simply can't afford.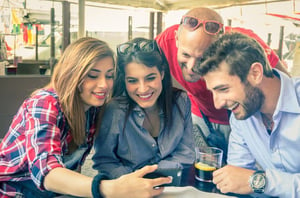 When defining your budget, you need to consider the potential ROI of your campaign. Potential ROI will depend on the goal of your strategy, which is why it's so important to define your goal first.
Predicting ROI can be a tricky task, particularly if you're working on a video marketing campaign for the very first time. A key step in making these predictions is defining the KPIs that will measure how successful you are in achieving your goal. It will also make life a lot easier later when you come to actually measuring the success of your campaign.
Choosing KPIs to assess content marketing success can be tough; there will probably be various different metrics you'll want to track. Here are some examples of metrics that are relevant to the goals we mentioned above:
Goal: Raise brand visibility and awareness
Metrics: Video views, social media shares, subscribers/followers on social media platforms
Goal: Increase audience engagement
Metrics: Video views, watch time, social shares, social comments
Goal: Lead generation
Metrics: CTR, unique visitors, email subscriptions, enquiry rates, quotation requests
Goal: Boost sales
Metrics: Website conversion rates attributed to the video
For those who are implementing Inbound Marketing, check out the article "The 9 KPIs for Measuring Inbound Marketing Success."
Once you have an idea of the type of metrics and KPIs you'll be tracking, you'll be able to assess existing KPIs and metrics in relation to ROI data for previous digital marketing campaigns.
As well as estimating potential revenue from your video marketing campaign, you should also think about the type of video you want to make and the ways in which you'll distribute it. Both of these factors will also affect your budget, and we'll cover them below.

TWEETABLE TIP
Producing high quality video content that generates customers for your business doesn't necessarily require a huge budget. What's really needed is a solid video marketing plan. #Video #Marketing #Strategy
VIA @dorecchio

Figure out the type of video you want to make
The ultimate goal of your video marketing strategy will help you to decide what type of video you want to make. Think about who your target audience are, where they are in your sales funnel, and how you'll grab their attention.
Let's take a look at potential video ideas for the goals we listed above:
Goal: Raise brand visibility and awareness
Video type: Videos which emotionally engage with people tend to work really well for building brand awareness because they grab attention and help viewers to understand what your brand stands for. You could strive to inspire people, make people laugh, or tug at heartstrings with a poignant video. The key is to subtly inform about your brand without overloading viewers with product information or sales-heavy messages.
Goal: Increase audience engagement
Video type: If you want to boost engagement, you need to strive to go viral. Emotionally engaging videos like those mentioned above work really well. The trick to boosting engagement is to encourage calls to action either via voiceover or onscreen text, or in the video description. For example, you could ask viewers to comment on the video with their own experiences, or to share with friends if it made them laugh.
Goal: Lead generation
Video type: If you're wanting viewers to take action in order that they convert into a lead, you need to start feeding them vital information about your products. Don't overload them; after all, you want to tempt them to click a link, make a phone call, or send an enquiry for more details. How-to videos are incredibly popular and can be a great way to showcase products while still providing valuable, helpful content that isn't too pushy in regard to sales.
Goal: Boost sales
Video type: Informative videos are great for pushing viewers towards a sale because they're probably already at a stage where they're ready to learn more about your product or service. You could create product demonstrations, animated explainer videos, or documentary-style client testimonials, for example.
Establish your distribution channels
Different distribution channels require different best practices when it comes to video content. For example, optimum video length on Facebook is anything under two minutes, but over on Instagram 30 seconds is the sweet spot. People use different social media platforms in very different ways, so you need to ensure your video is optimized for the viewing habits of each platform.
There's no harm in using the same video content with multiple distribution channels, but you may want to edit the video into several slightly different versions. Additional editing or re-purposing of video content might affect your budget, so you need to plan for this way before you begin creating video.
You also have to consider content which will support distribution of your video. For example:
Using a video on your website? The site might need additional development to help it stand out. Additionally, in order to ensure search engines understand the content and context of your video, be sure to add structured data markup when you embed the video to your website page.
Plan to expand a video's reach via guest blogging? You'll need to create content to accompany it.
Uploading it to a hosting platform like YouTube? You'll need to perform video keyword research and prepare optimized video titles, video descriptions, and channel descriptions.
All of these additional factors take time and cost money, so you need to plan for them in your marketing strategy to avoid delays or financial shortfalls. Plus, the metrics and KPIs you use to measure success of a video campaign may also be influenced by your distribution channels, so it's vital that you have a solid plan for sharing your video content with the world.
Next step: execution
With goals, budgets, video content, and distribution figured out, you have all the information you need to approach a videographer, video production company, or your in-house video team. By setting up your strategy first, you'll be able to communicate your aims to the video creator seamlessly.
If everyone is on the same page, your video content is far more likely to deliver on your marketing goals.