Sales Enablement is the supporting assets (content, methodology and technology) that give your sales team the highest probability of identifying the right prospects, nurturing them and converting them into customers. When all of the components of the sales enablement system align, sales enablement gives your business a powerful set of tools and assets that help to drive top line sales. What do you do if your sales enablement initiative is not producing the desired results? To explore this question, let's first define sales enablement.

Hubspot defines Sales Enablement as: Sales enablement is the technology, processes, and content that empower sales teams to sell efficiently at a higher velocity."
For Sales Enablement to work, it must powered with the right content which means that the marketing team must be partnered with sales and deliver the types of content that are effective in the sales process. Every sales manage will tell you to scale sales it must be aligned with a process that works best for your business. In this digital world, look into how your sales process engages the modern buyer. Pair the content and methodology with sales enbalement tools that amplify the process and enables sales to focus on their activities that deliver the most value to prospects and your business.
Sometimes the change (or optimizations described above) is difficult for organizations. Sales Enablement initiatives do not always deliver on their promise when all three elements (content, methodology and technology) are not addressed. It is exactly like having a process with a broken step in the middle.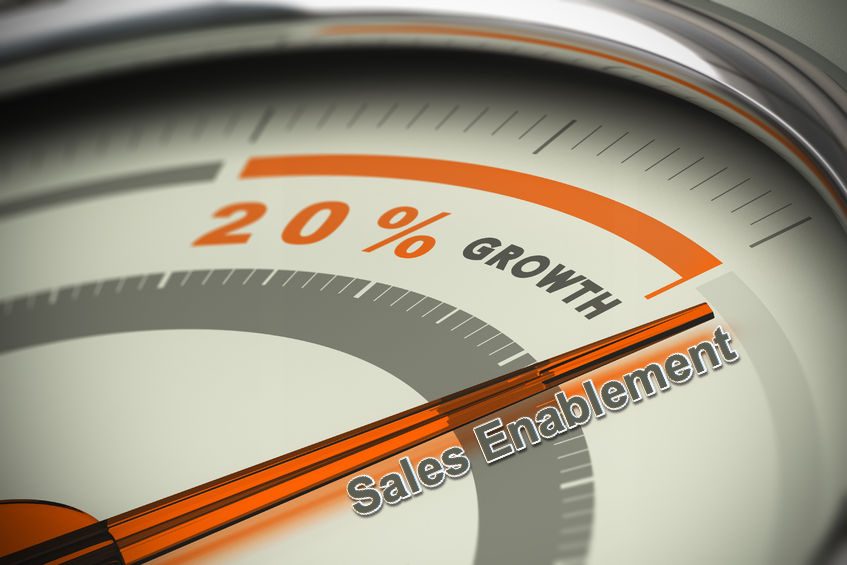 So what do you do if sales enablement is not working for your business?
The Changing Nature Of Sales
It is the buyers in the modern age, rather than the sellers, who have the initiative in purchasing goods and services. Buyers have many more options now because of their ability to research online and investigate the details of seller offers. This power-shift has undermined the traditional role of selling for brands.
The sales and marketing process that is the emerging response to these empowered customers is a more buyer-centric model. The Inbound Methodology provides sellers with a process that addresses the newfound advantages of buyers in the digital age. Sellers have to deliver an experience that is much more transparent and directed to support the Buyers' Journey.
If you employ the tools of Sales Enablement effectively, they will revitalize your sales team to increase productivity massively. The Sales Enablement philosophy integrates all of the content and processes that support your sales team. Together all of these activities help your sales team advise rather than manipulate buyers, personalize the approach to each prospect, and be buyer-centric at all times.
The Inbound Methodology Transformation
The inbound methodology makes a virtue of the inquisitiveness of buyers and builds a relationship with them. Your suite of inbound sales enablement tools produces a personalized stream of content for each of your prospects as personalized information channels.
The suite standardizes reports and data about engagement with prospects, preparing it for analysis. This digital reporting gives you feedback about the big picture of your sales process and tailors the data more precisely over time, as well as qualifying individual leads.

TWEETABLE TIP
What To Do When Sales Enablement Is Not Working. Use your suite of inbound sales enablement tools to send a personalized stream of content as personalized information channels.
As part of the strategy, optimize all of the storage for your sales content, assets such as eBooks, reports, and case studies. Your sales team members must be able to find the right piece of content at a critical moment without any delay. As well as sales content, this library should have email templates and case studies to answer buyer questions and to position your offerings. To amplify this point, this article explains why sales spends only 33% of their time selling.
Your enablement tools also include automation sequences of content delivery via pre-planned email events and other integrated channels such as instant messaging. When all of these elements of your Sales Enablement suite work together properly, they create a seamlessly integrated stream of content and data that tells you how each piece impacts the interest, experiences, and decisions of your prospects.
Put Your Sales Enablement Tools Back To Work
The reason that a set of sales enablement tools does not achieve the expected results might be unique; they will depend on the personal needs of the prospect and many other factors. However, as the approach matures, several specific types of failures have emerged.
Sales enablement fails when the teams for marketing and sales do not work toward a common goal. The technology also fails when management cannot measure the success rate of campaigns accurately, or when deals get trapped at some stage in the sales process. Additionally, content can lose its effectiveness due to poor version control and difficulty finding it for prospects at the right moment.
Retrain your marketers and sellers to be more collaborative; make them understand that they share common goals. Integrate your sales and marketing funnels to overcome the confusion. Inaccurate measurements lead to poor insights so develop a plan to capture data more accurately with improved analytics.
Analyze the data of current and past performance. When you encounter friction in the sales process, realign your marketing content and sequences and analyze how the outcomes change.
Connect With A Partner Agency For Successful Sales Enablement
To ensure that your Sales Enablement raises your inbound sales productivity, for expert guidance you can work with an inbound agency that specializes in this process. Bristol Strategy is a partner agency with years of expertise, we have developed a full suite of Sales Enablement solutions to transform your sales process and maximize your inbound sales productivity.
The majority of companies have yet to realize the potential of sales enablement tools. So, if you begin now, you have the opportunity to stand apart, ahead of the crowd. Contact Bristol Strategy to find out how we will help you make your Sales Enablement tools more productive.
Bristol Strategy is a full funnel inbound marketing agency and inbound sales agency offering the full complement of Inbound Marketing services that enable our clients to surpass their business objectives by transforming the way they engage with their buyer on-line. Reach out to us to learn more about how our experience and capabilities can help your business grow.
Copyright: 123RF Stock Photo