Any content marketing plan requires many elements to be effective at attracting prospects, converting them into leads and nurturing them until they request a discussion with a salesperson. A content strategy is an essential foundation for your digital marketing plan and is where every business should begin before investing in improving their online presence.
What is a content strategy?
A content strategy is a specification of all the content you create for your digital marketing - ebooks (or other lead magnets), social media posts, blog articles, videos, web page content, email communications, and any other written or visual media.
Content creation is an essential part of inbound marketing for a few reasons. It's an excellent opportunity to build credibility, show off your voice, and reinforce your brand position. Creating and publishing valuable content helps visitors remember your business and what you have to say about how your company solves problems of interest to your ideal customer. When you create content, it should reflect your business's unique personality, while showing your audience what sets you apart.
The content you create that is defined in your strategy also gives you the chance to demonstrate your industry expertise. Much of the content you create will educate your audience and help them solve the critical problems they have or answer their questions. This approach to sharing educational content lets people see that you know what you're talking about, and they can trust what you have to say.
The goal of a content strategy is to define different types of content with the central purpose of attracting and converting more leads who represent your ideal customer, enabling you to grow your business. When done correctly, it creates a reliable stream of new leads and a way to ensure your website traffic increases with the right audience. Over time, you can experiment with different types of content to determine which topics resonate best.
What are the Elements of a Content Strategy?
There are many content types you can use in your content strategy, and the kind you use depends on whom you're trying to reach, what you're trying to say, and which stage of the buyer's journey the information satisfies.
Here is a sampling of the types of
content represented in a content strategy:
Blog posts

- Blog posts are the bread and butter of any effective content strategy. They are the best way to share ideas and information that will attract new visitors to your website. The content you share in blog posts should be valuable and educational and should aim to answer any questions your audience may have about your industry. Blogs have the added benefit of providing a nearly endless supply of topics to build search engine rank around.

Videos

- Video is an excellent medium for concepts that are hard to explain in words. Product demonstrations, conceptual ideas, and visual statistics can all help bring your brand to life. Indeed, video is much more engaging than written content and often takes more time and resources to create.

eBooks

- Creating an ebook is perfect for writing about a topic in-depth. Ebooks are also a significant lead generating tool. You can offer them to visitors who want to learn more by submitting a lead form with their contact information to receive the material. They serve as lead magnets for business. Lead magnets are a vital part of any successful online marketing program.

Podcasts

- Not everyone has the time to sit down and read a blog post or watch a video, which is why podcasts are powerful. Listeners can tune in during their commute or while they're making dinner, and learn more about what you have to say. Bring on industry leaders for interviews and experiment on what format works best for your audience. If your business does not have the resources to create a podcast and publish it on a schedule, consider reaching out to podcasters who focus on your industry and offer an interview. You can share the recording of the podcast on your website to share your point of view using this medium.

Infographics

- Infographics can help your audience visualize statistics and facts by breaking down the information into bite-sized annotated images to tell a story.

Social media content

- Social media is used in every market, targeting virtually any prospect. If you don't have a presence on

social

media platforms, you miss out on an opportunity to spread your message and reinforce your brand. Social media is a great place to disseminate the content you create and get it out in front of the right people. Your potential customers spend time browsing and engaging with social media, so meet them on a platform they're already using.
Content types often used at each buyer's journey stage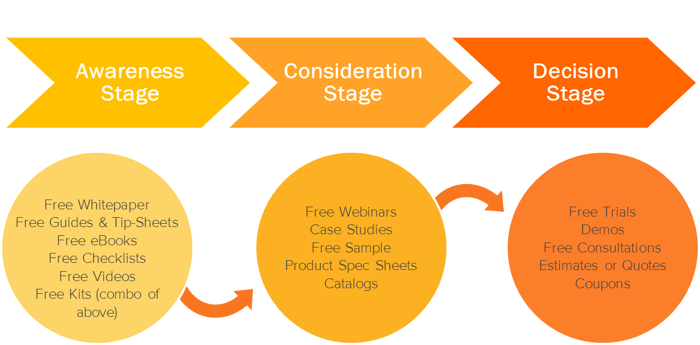 What is the "new SEO"?
Wondering what is the "new SEO"? Well, it's defined by a content strategy. Having a properly constructed content strategy can help your search engine optimization (SEO) efforts as well. As you work to publish a valuable content library, you're building your authority as a business and as a brand, and Google loves content that satisfies the searcher's intent. When someone searches for a topic on Google, clicks a link, and spends time on that page, Google assumes that the searcher found the content they needed. Additionally, when you're able to satisfy readers with informative content, your pages will gain more authority with search engines, and you'll rank higher on search results pages.
The best way to give your SEO a boost is by following the topic cluster model. Start by creating a pillar page that focuses on a central, more general topic, and then creating pages (typically blogs) that link to that page, each of which delves into a more specific aspect of that general topic. For example, if your main pillar page focuses on the topic "how to lose weight," your cluster pages might examine details like "best exercises for weight loss" or "how to lose weight if you're over 50". The pillar page and cluster pages should link to each other. This model makes it easy for Google to understand the message you're trying to get to your audience. The following graphic shows what a topic cluster might look like for encryption key management.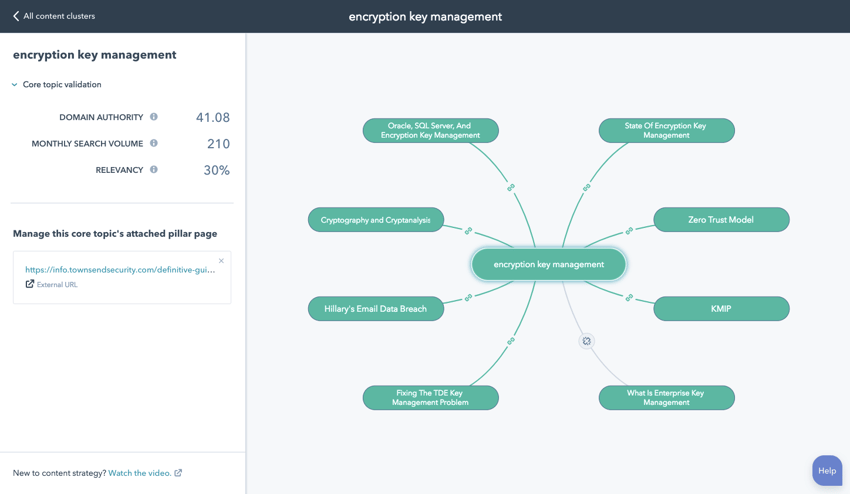 Content Strategy Framework
Triggers & Goals - a trigger is any problem your ideal customer faces that is important enough to make them invest in a solution right now. The connected goal is often simply the inverse of the trigger - for example, if your prospect's trigger is a decrease in website visitors, their goal will be to increase traffic to their website. Each set of triggers and goals presents you with an enormous opportunity for conversion. You want to put content in front of your prospects that will reach them when they are triggered to seek out relevant information and demonstrate how your company is uniquely qualified to help them reach their goals. Long-form content like eBooks are a great way to speak directly to your prospects' problems and provide detailed, high-value solutions that show your expertise.
By taking this sales-focused approach to content strategy, you can build trust with your prospects and establish thought leadership in your industry, instead of creating less focused content that ultimately is not as targeted to the ideal buyer's needs
Search Questions & Answers - in searching for solutions to their problems, most people will type a question directly into Google, Bing or Yahoo and explore related questions until they find exactly what they're looking for. Search questions are usually general and industry-based to give the user the background information they need to make an informed buying decision. Your goal is to create content that will not only answer those questions, but rank for them in a Google search. For example, if your ideal customer is learning how to increase traffic to their website, you should have blog posts available to answer questions like, "why am I not getting website traffic" and "what is SEO". Include keywords in your blog titles, headings and meta descriptions to improve your rank and increase your chances of getting discovered online.
Brand Questions & Pushbacks - your sales team is likely faced with some recurring questions and pushbacks that must be answered before your prospect will be ready to buy. Unlike search questions, which can be broad, these are usually specific to your company's brand, products, or services - like a question about a feature or a pushback on pricing. Instead of responding to each of these issues individually, you can scale your sales process by building an automated email nurturing system around each piece of content that will give leads more information about your brand while saving time for your sales team. These nurturing emails should effectively mirror the sales process and address the common questions and pushbacks you receive through the delivery of targeted content.
Putting the Content Strategy into Action
Let's look at this content strategy framework in the context of the inbound marketing funnel. In this image, the buyer's journey stage is on the left, the automated sales process is the center and typical inbound marketing tactics are on the right.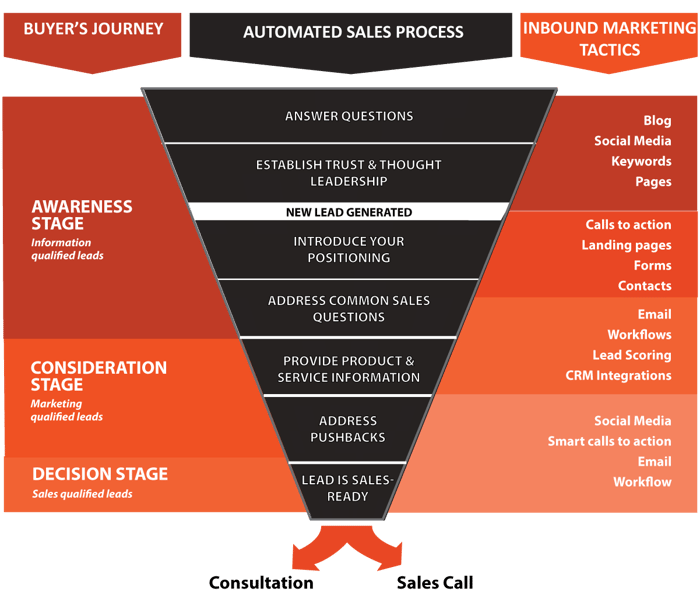 At the Awareness-stage - the triggers and goals above define the eBooks that establish thought leadership and introduce your positioning. The questions and answers define the blog topics. When publishing blogs, we take care to offer an eBook or other detailed lead magnet to enable conversion of visitors into contacts in your database. The nurturing emails answer common questions your sales reps might get early in the sales process when the prospect is seeking information.
At the Consideration-stage - we typically develop an eBook or guide which is branded. It speaks about how your business addresses problems and establishes trust with fact based descriptions about how your business has helped others. This eBook or Guide is called a brand filter because if the prospect downloads this content, they are clearly researching your company. We follow downloads of this content with nurturing emails that address objection handling questions, like your sales rep might if they had direct contact with the prospect.
At the Decision-stage - we develop landing pages that describe value-added offers that describe ways your company delivers value during an initial discussion. Your sales reps, if they are consultative selling, will always help a prospect discover something about their problem or solution they may not have been aware of. In this way, these engagements are created from the perspective of the prospect, not your company. By doing this, the conversion rate of visitors into sales-ready leads are their highest.

TWEETABLE TIP
What is a content strategy? It's a specification of content working together as a digital funnel that attracts and converts the visitors into leads. #ContentStrategy #Inbound #InboundMarketing #SEO
VIA @dorecchio

Learn More About Creating an Effective Content Strategy
A great content strategy can give your marketing efforts a huge boost. If you're ready to get going on creating your content strategy today, contact us for more information or request a content strategy project for your business to supercharge your inbound marketing results.