No matter what type of business you operate, you may run into sales issues that can upset your bottom line if you don't act. Creating an effective sales strategy takes time, but it is manageable with the right tools and support.
This guide will help you understand Sales Enablement, B2B sales lead generation, and how to build trust between your salespeople and your potential customers. With this information, you can analyze your own business inbound marketing and sales strategies, troubleshoot, and craft the ultimate sales and marketing plan and strategy so your business can bounce back.
The Changing Nature of Sales
It is the buyers in the modern age, rather than the sellers, who have control when purchasing goods and services. Buyers have many more options now because of their ability to research online and investigate the details of seller products and services. This power-shift has undermined the traditional role of selling for brands.
The sales and marketing process that is the emerging response to these empowered customers is a more buyer-centric model. The Inbound Methodology provides sellers with a process that addresses the newfound advantages of buyers in the digital age. Sellers must deliver an experience that is much more transparent and directed to support the Buyer's Journey.
If you employ the tools of Sales Enablement effectively, they will revitalize your sales team to increase productivity and exceed their sales goals. Sales Enablement integrates all the content and processes that support your sales team. Together all these activities help your sales team advise rather than manipulate buyers, personalize the approach to each prospect, and be always buyer centric.
The
Inbound

Sales

Methodology

The inbound sales methodology makes a virtue of the inquisitiveness of buyers and builds a relationship with them. Sales enablement tools enable the creation of a personalized stream of content for each of your prospects.

As part of the sales strategy, optimize the organization of your sales content, assets such as eBooks, reports, and case studies. Your salespeople must be able to find the right piece of content at a critical moment. As well as sales content, this library should have email templates and case studies to answer buyer questions and inform about your products and services. To amplify this point, this article explains why sales teams typically spend 33% of their time finding and developing content for their sales process. By addressing the content gap for sales, your salespeople gain an instant productivity boost.

Your sales enablement tools should also include automation sequences of content delivery via pre-planned email events and other integrated channels. When all these elements of your Sales Enablement suite work together properly, they create a seamlessly integrated stream of content for prospects and sales knows how each content element impacts the interest, experiences, and decisions of your prospects.
Understanding Sales Enablement
Sales Enablement is the supporting assets (content, methodology, and technology) that give your sales team the highest probability of identifying the right prospects, nurturing them, and converting them into customers. When all of the components of the sales enablement system (part of a CRM) align, sales enablement gives your business a powerful set of tools and assets that help to drive top-line sales. What do you do if your sales enablement initiative is not producing the desired results? To explore this question, let's first define sales enablement.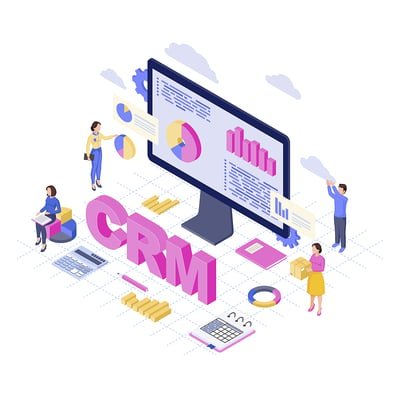 For Sales Enablement to work, it must be powered with the right content, which means that the marketing team must be partnered with sales and deliver the types of content that are effective in the sales process. Every sales manager will tell you to scale sales, the sales CRM and its tools must be aligned with a process that works best for your business. In this digital world, look into how your sales process engages your ideal customer. Pair the content and methodology with sales enablement tools that amplify your sales process and enable sales to focus on the activities that deliver the most value to prospects and your business.
Sometimes the change (or optimizations described above) is difficult for organizations. Sales Enablement initiatives (or the CRM it is built upon) do not always deliver on their promise when all three elements (content, methodology, and technology) are not addressed. It is exactly like having a process with a broken step in the middle. So, what do you do if sales enablement is not working for your business?
Put Your Sales Enablement Tools Back to Work
The reason that a set of sales enablement tools does not achieve the expected results might be unique. They'll depend on the personal needs of the prospect and many other factors. However, as the approach matures, you'll likely find several specific types of failures emerge.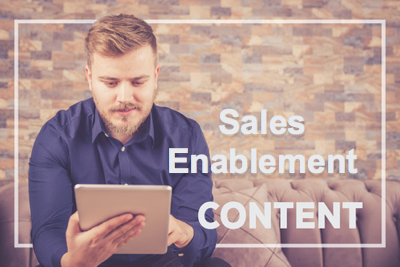 Sales enablement fails when the teams for marketing and sales do not work toward a common goal – when there's a lack of alignment. The technology also fails when management cannot measure campaigns' success rates accurately, or when deals get stuck in one phase of the sales process. Additionally, content can lose its effectiveness without good organization and management, which makes it hard to find for the prospects at the right moment.
Coach your marketing and sales team to be more collaborative. Your ultimate sales and marketing plan should be to make them understand that they share common goals. Integrating your sales and marketing funnels can help overcome confusion. Inaccurate measurements will also lead to poor insights, so you should also develop a plan to improve your analytics to capture data more accurately.
Analyze your team's current and past performance data. When you encounter friction in the sales process, realign your inbound marketing and sales content and sequences and analyze how the outcomes change.
Understanding Sales Prospecting
Now that you understand Sales Enablement and how to utilize the right tools, let's dive deeper into the complexities of sales. After all, once you have the content generated, you'll want to put it to good use.
Sales prospecting is another term to understand. It is the process of determining your ideal or target customer (identifying what businesses qualify as your customer) and drawing them to your products or services (generating sales opportunities).
Getting sales prospecting right is key, but it's one of those skills that presents potential for poor performance, as many businesses have discovered much to their chagrin. Here are four possible reasons you may be having your own sales prospecting struggles, as well as suggestions on how to overcome them.
1. Not Relating to Your Target Customer
Your marketing presence looks just as strong as those of your competitors but looks can be deceiving -- it's the leads that count. Many businesses don't understand why their message is falling on deaf ears because they don't realize that they're sending the wrong message to the right people, or the right message to the wrong people.
Who is your ideal client? It isn't good enough simply to respond with a job title or industry description. You need to develop a strong image of exactly who those individuals are -- their needs, challenges, concerns, interests, et cetera, all in the context of what they're trying to achieve for their business. This identification work involves the construction of a detailed audience persona. You'll need the answers to a great many questions regarding their demographics, relationships, career, values, passions, and challenges. You must also consider how your ideal client uses the Internet, participates on social media, searches for answers, and shops for solutions. The necessary answers to all these questions can be gleaned from surveys, industry white papers and reports, and other forms of market research.
Yet, to really understand who and what these people are, you must also know who and what you are. Maybe it's time to take a detailed look at your company's own persona. What is your company mission, brand image, industry position, and unique value proposition? You must communicate these pillars of your position and differentiation clearly in every piece of content you distribute. This persona will naturally appeal to those entities that have a burning need for what you represent and provide.
Once you know what you have to say and who you want to say it to, the next step is creating the appropriate content strategy. This makes it much easier to come up with a steady stream of material seen as genuinely helpful and insightful by your audience -- which is bound to give your sales prospecting a welcome boost.
2. Not Communicating with Your Target Audience Where It Lives
Maybe you have a firm grasp of both your own persona and that of your ideal customer, and you're monitoring their behavior on your inbound channels in great detail. You've even populated your website and blog with relevant, captivating content that appeals directly to their indicated interests and needs. Why, then, might you still be having trouble generating opportunities? The trouble could be that you're failing to seek out and interact with your prospective clients in the communities they frequent.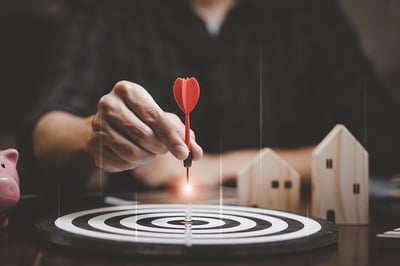 Creating a strong initial web and social media presence won't help your sales prospecting all that much if you take an "If we build it, they will come" attitude toward these channels. Creating a website, even a well-optimized one, is not sufficient to reach your target market. Nor is merely maintaining a blog. You also need to find out exactly where your prospective clients are spending most of their time on the Internet -- and you need to join them there.
Which LinkedIn groups do your dream clientele belong to, and what conversations are they having there? Join those groups, get in on the conversation, and try to build a reputation as a thought leader within that sphere. Are there industry-specific, technology-oriented networking groups and events where you might meet your future clients in person? The answer might be as simple as a quick review of your local Meetup.com or Chamber of Commerce calendar.
3. Not Measuring Prospecting Effectiveness
Here's an odd fact, as relayed by an article in eMarketer: A survey of marketers identified brochures as one their major lead generation tools, yet only 9% of the respondents regarded brochures as highly effective for lead generation! This kind of strategic disconnect only serves to point out how far off the mark you wander when you follow established practices blindly instead of basing them on the best possible data. Many marketers are making this critical error because they're not tracking and measuring the relative lead-generating effectiveness of each form of content they produce.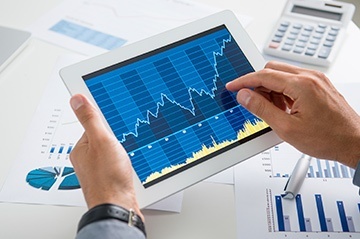 Some types of content format and delivery tend to deliver more powerful with sales prospecting than others, as we noted in a previous post. Apart from direct customer and employee referrals (which beat just about any other prospecting method available), the highest lead-to-deal conversation rates are generated from website content that ranks in search. Email campaigns, lead lists, and events tend to trail significantly behind these other forms of outreach. You might feel like you're making a big splash at that national technology expo or trade show, but you'll have to work awfully hard to get the same ROI that you'd have enjoyed by focusing on online lead generation methods.
To really get the most out of your sales prospecting, engage a dedicated sales enablement firm with the proper tools, expertise, and manpower to track sales content conversion rates, not only by channel, duration, and volume but also by content type. Once you know what content delivers the greatest ROI, you can adjust your overall sales and marketing plan accordingly.
4. Failing to Use Strong Lead Conversion and Nurturing Tools
Converting a prospect into a sales call is difficult. You might assume that the further along your sales funnel a prospect travels, the more of a "sure thing" they become. But there's another factor involved, one that elevates the risk of that prospect dropping away from you -- the increasing level of commitment you're asking. Sooner or later, you've got to capture that person's attention if you want to have any hope of pursuing and converting them into a customer. Some businesses fail at precisely this stage because they haven't provided that one extra enticement to win them over.

How do you overcome this stumbling block? The most effective sales strategy is to make sure you're offering high-value content in exchange for their information and/or additional participation within the sales funnel. Technological white papers, eBooks on the state of your audience's industry, access to members-only areas where they can access exclusive product reviews and information -- these and other goodies make them feel that they're making a sensible business exchange instead of just volunteering their information and time.
Once your sales prospecting appears to be working, you must nurture those prospects until they are ready to buy. This is where that contact information you collected goes to bat for you. Email offers for discounted products or services (or announcements of new ones), educational content, invitations to sponsored industry events, seasonal articles, and purchase suggestions can all keep you top of mind until that lead finally buys.
Understanding the Role of Trust in Sales
You now understand the potential issues you may be facing in terms of your sales prospecting. However, it's still a good idea to step back and consider how your sales strategies are doing. If customers are being attracted to your products and services based on the content they see, why aren't you getting more sales? How are salespeople being perceived by potential customers?
With the commercialization of the Web, buyers are fully in control of the sales process. Whether it's a consumer looking for new cookware, or a commercial buyer sourcing new manufacturing material, prospects are now capable of thoroughly researching and comparing potential purchases long before sellers are even aware that someone might be interested in them. Here is the terrible truth: according to marketing intelligence consultant IDC, two-thirds of buyers engage a salesperson ONLY after they've already made a purchasing decision. If you're a sales and marketing professional, that must be downright scary.
The challenge for a sales professional is daunting – how can you persuade prospects that your products or services have value, and you are worthy of their trust before contact has been established?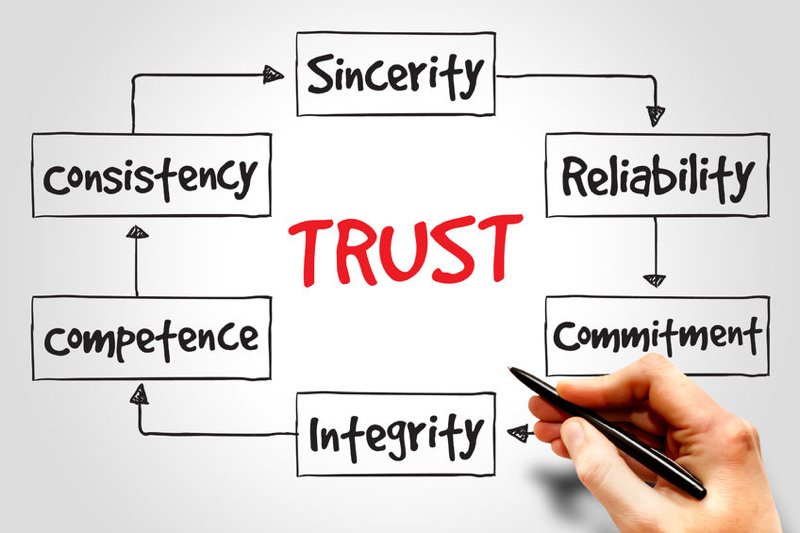 So, how can content be used to build trust between you and potential customers? The short answer is, make sure you and your salespeople are active online, offering valuable, objective information about your industry, market, and the products or services in it. Have that information readily available in many forms that prospects can access when, where, and how they choose. The good news is, IDC has also discovered that 75%of B2B companies considering purchases take up to six months to do so. That gives you plenty of time to get valuable information into the hands of prospects, even if they choose not to immediately engage with you.
Are
Salespeople

Irrelevant?

To loosely paraphrase Mark Twain: "rumors of the death of salespeople are greatly exaggerated." The role of the sales representative is alive and well, it's just evolved significantly over the past several years. Sales and marketing teams, instead of delivering all-or-nothing sales pitches, are now dispensing timely information to nurture prospects along the sales journey – good sales enablement.

And not just any information – it's a variety of content developed to be highly relevant at different stages of the sales process. Content that addresses the "pains" that cause the prospect to be investigating a purchase in the first place, and then increasingly detailed and helpful information that's needed as they get deeper into their research and begin to have questions.
How Do You Know What Content Is Needed and When?
Fortunately, there are several marketing tools available that can aid your own research into customer preferences and needs. For B2B sales teams, LinkedIn Sales Navigator is a great resource for research into prospects. Social media monitoring tools can help sales gain insight into the behavior and biases of prospects and their markets. An inbound marketing and sales content strategy session or two will help your team analyze the data revealed by these tools and develop a list of appropriate topics that can be covered in a wide range of content such as white papers, eBooks, executive guides, and blog posts.
Gaining critical trust and interest from prospects is all about delivering to prospects experienced insight into how you solved for other clients the problems they're now facing. Be sure to back up those claims with objective third party research and client quotes to prove you actually delivered real solutions.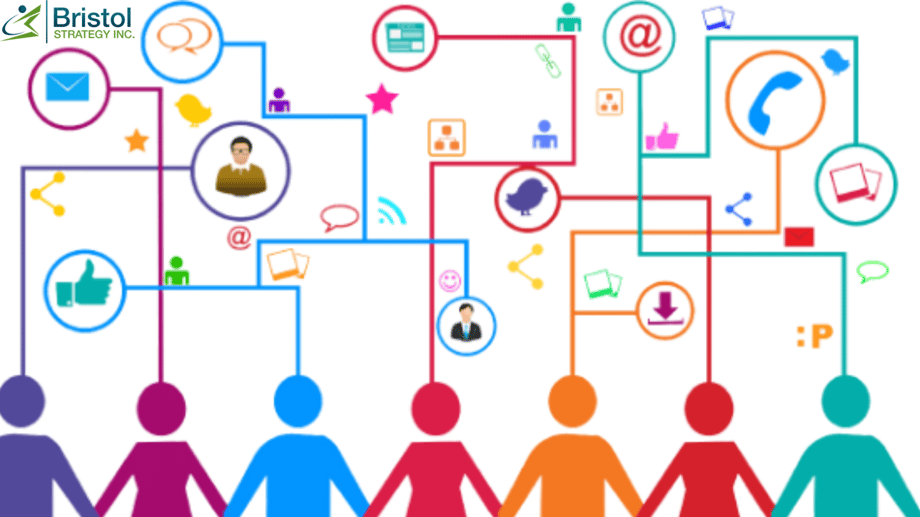 Effectively engaging prospects requires trust. Converting prospects into clients requires developing a relationship that builds their trust in what you say and the value of what you sell.
All prospects, regardless of what they're buying, are looking for solutions for their problems – whether it's new shoes with better arch support or a reliable doppler blood flow monitor. By sharing valuable content centered around their challenges and making that content available at key points along the sales journey, you help prospects objectively research their purchases with solid information. This, in turn, develops trust and encourages prospects to engage. The result? A relationship that benefits both parties and provides the seller with a competitive advantage.
Key Takeaways
As you work to create an effective sales strategy for your business, consider the following:
Sales Enablement will only work if it is powered with the right content. This means that the marketing team must be partnered with the sales team and deliver the types of content that are effective in the sales process.

When marketing and sales teams work toward a common goal, Sales Enablement will flourish. A sales and marketing plan should be all-inclusive.

Your sales prospecting won't flourish if you don't play to your target audience's persona, if you don't target your audience's location, if you don't measure your sales outreach effectiveness, and if you fail to use strong conversion and nurturing tools.

Building trust is key for businesses and sales reps. To build this trust between sales and potential and existing customers, sales reps must exhibit four characteristics: capability, dependability, integrity, and intimacy.
Let's Work on Your
Effective

Sales Strategy

Together

By considering how your sales enablement, sales prospecting, and marketing and sales teams are working together, we can find the most effective sales strategy for your business. Here at Bristol Strategy, we have the knowledge and expertise to help you through this tricky process. Contact us today so we can discuss your sales and marketing plan in greater detail.