We gain most of our new clients from company CEOs, Presidents or Sales VPs who need to address the inability of sales to gain access to prospects through traditional means and the lack of qualified leads. Because of our company's sales pedigree, we think about the sales enablement process a lot and have written articles that frame these two problems. We thought it would be helpful to write one article that pulls past content together to serve as a sales road map for success and how Inbound Marketing and demand generation campaigns could address these two issues. As an Inbound Marketing Agency, we see many examples of companies who are tryting to improve their sales efficiency, that is why we have embraced the new Inbound Sales methodology and offer a full funnel solution to improve overall top-line operational efficiency for our clients.
In B2B sales organizations, it's all about sales efficiency
Businesses invest a lot into support, training and management of sales teams. Any tactic that can improve the efficiency of the sales process gains attention. What you will learn as a common theme throughout this article is that Inbound Marketing eliminates many of the sales inefficiencies in the b2b sales process and delivers high quality leads to a sales team. The following articles provide insight into sales process inefficiencies and recommendations to streamline your sales process.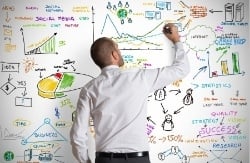 1) The first article titled "
Why Did Salespeople Spend Only One-Third of Their Time Selling Last Year?
" references a 2015 study of sales productivity and breaks down which tasks sales reps spend the most of their time.
In fact, the study declares that 79% of businesses declared that improving sales efficiency as critical to meeting sales goals.
What's more, the study found that sales reps spend almost 1/3 of their time searching for the right content to engage with their prospects.
A sales process aligned content strategy would ensure the right material is available and effective, improving sales productivity, as discussed in the next article.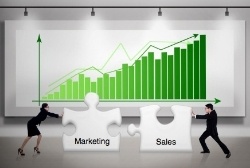 2) The next article titled "
The Importance of Aligning Marketing Content and B2B Sales Process
," references an infographic that describes the required content for each sales process stage. These process stages are referred as the "Buyers Journey" by inbound marketing professionals. In addition to providing the infographic as source material, this article describes how the sales process has changed because prospects have so much access to information, they are delaying their engagement with sales. There was an "Old Way" we used to engage with prospects, and a "New Way" that we must embrace now to succeed.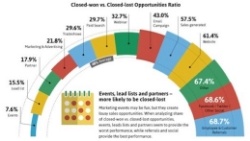 3) If you did not believe that your website was important for sales, then this next article titled "
Which B2B Marketing Strategies Produce the Highest Sales Conversion Rates?
" will clarify this point. It provides a great analytical view into which tactics result in sales. I think you will be surprised like I was. After all, you are investing a lot in
demand generation
marketing campaigns and initiatives. Do you realize the commensurate value from those investments? This article references a study sourced by Hubspot that provides aggregated B2B sales analytics, and surprisingly a website is the source of closed deals at a ratio of 61.4%. Furthermore, the lead to opportunity rates for websites are the highest also highlighting the need for automated lead nurturing (powered by marketing automation) since the methodology increases the conversion rate into sales.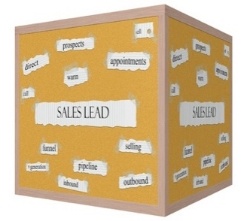 4) As a sales rep, achieving our sales targets for each quarter is very difficult, especially during difficult economic or market periods. The next article titled "
The Best Way to Achieve Your Top of Sales Funnel Goals
," first describes the need to create an automated lead engine by implementing inbound marketing methods with the right content strategy, and then powering your lead engine with paid search. You will find that employing paid search before having the right conversion opportunities on your website will waste money. Not having the right offers on your website for
Pay Per Click (PPC) advertising
visitors is a problem because visitors will come to your website based on clicking on the advertisement and then not convert to a lead.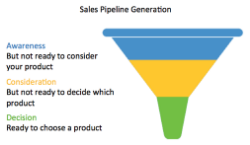 5) Rounding out the road map for sales are two articles from guest blogger and senior sales rep, Jim Welch. These two-part blog series, Jim discusses the challenge sales teams face because in the end they are responsible for their sales funnel regardless of how much marketing teams promise to help and then how to build a sustainable pipeline. The first article is titled "
Sales Pipeline Generation Part 1: You are responsible for your pipeline, now what
? and the second in the series is titled "
Sales Pipeline Generation Part 2: Sales can build a sustainable pipeline with inbound marketing
."
Eliminate Sales Productivity Issues with this Sales Road Map for Success
Businesses who seek help to eliminate inefficiencies in their sales process may reach out to Bristol Strategy for help. Either learn about the Inbound Marketing process from our methodology page, or request an Inbound Marketing assessment. If you are looking for methodos to improve sales efficiency and are interested in learning more about Inbound sales, please check out the website page or download the eBook "A Guide to Inbound Sales, how sales can transform the way you sell to the modern buyer."
Bristol Strategy is a full funnel inbound marketing agency and inbound sales agency offering the full complement of services to enable our clients to surpass their business objectives by transforming the way they engage with their buyer on-line. Reach out to us to learn more about how our experience and capabilities can help your business grow.