Sales Pipeline Generation is a Strategic Imperative.
The title of this post would cause some sales managers to say you are crazy, and CEO's to fire the marketing guy. Why would a sales rep want to do any marketing? Because cold calling and other "Interruption" techniques to engage the buyer are much less effective (how does 0.3% effective grab you?).
Today's buyers are looking for companies that educate and nurture them while they seek solutions to their problem. For more on the why, read my earlier post titled "You are responsible for generating your own pipeline, now what?"
Great sales reps maintain a healthy set of relationships and networks with business people, a significant database of contacts and a thirst to find more. Finding the best techniques to nurture these relationships is a key to recurring sales success. Inbound Marketing methods do just that; they nurture relationships with valuable insight and timely information until we have a new opportunity to sell to each contact again. They also allow us to be seen as a subject matter expert in our field. Now we will be viewed as someone who can help solve the buyer's problem not merely as someone looking to sell something.
Since the writing of this article, Hubspot introduced a combination of a methodology and tools that aid sales teams in reaching and engaging prospects early in the sales process called "Inbound Sales." This approach is a complementary method to Inbound Marketing but for sales. To learn more, read this blog article about Inbound Sales and also learn about our inbound sales enablement services.
How can we use inbound marketing methodologies to nurture relationships?
Here is a list of needed elements for Sales Pipeline Generation using Inbound Marketing Techniques:
It takes a steady stream of content, specific to addressing problems. This material can be created by your marketing department or can be an insightful tidbit the sales rep finds during their research. The objective is for us to become a trusted advisor to a growing list of contacts.

Format the content for Awareness, Consideration, Decision and Delight stages of the Buyers Journey. (see prior post)
Must be targeted to a specific buyer archetype otherwise known as a Buyer Persona.

Email automation that sends individual emails that address specific objections the buyer might have and send them directly to each contact in the database. We typically have hundreds if not thousands of contacts and manual creation of personal emails is too time consuming to be practical.

The email automation must be able to direct different content to individual contacts based on a classification set to them so we can direct different messages based on what information the contact has previously received and what we want them to see next.
Delivery of the content of the emails must be simple and not include large attachments. The solution needs a content delivery website – see that prescription later in item 3.
The email system must have the ability to send a series of emails spaced in time, each with new information until the prospect's status changes.
The email system adopted for a sales force must know which contact is for each sales representative, so buyers are not inundated with emails from every sales rep in the company.

We must have web pages that can direct recipients of our emails to in order for them to download premium content when they click on the link in the email. These pages must be aware if it is the recipient that is downloading the content or a different user – if a new user then it should capture contact information and add it to the sales reps database.
We need to be socially engaged because buyers are today. Tools that automate social engagement and as an added benefit, direct new "like minded" prospects our premium content.
We can set our curated content into a blog-based system that houses our premium content, as well. The benefit of this step is to generate organic leads and place them into the lead nurturing system for potential future sale.
This seems like a lot to organize and coordinate, but with the automated systems that exist today, this is very simple to achieve.
The majority of the effort is creating the premium content by our marketing team that is formatted and targeted appropriately as described.
Tools that can automate this process are quite powerful:
Eloqua from Oracle (shameless plug) and Hubspot, to name a few, make marketing automation systems that addresses all of these described needs and depending on the size of your sales and marketing team, it can affordably automate email engagement with your sales rep's contacts database, implement social engagement and deliver premium content. Eloqua is targeted for medium to large enterprises. Hubspot has traditionally targeted small to medium sized businesses. For example if you have 10 sales reps in your company, Hubspot can be the engine of your lead nurturing for a mere $80 per month per sales rep.
The combination of Wordpress, Mailchimp and Hootsuite can be configured together (with some work) to do the same. Of course, Wordpress is free with only the cost of hosting on services like GoDaddy.com. Mailchimp has various pricing options, all affordable based on the number of emails you send per month. Hootsuite is free for connection to up to five social media accounts. Sales reps can schedule their social engagement for the week in less than an hour on a Sunday morning as part of planning their week.
The bottom line, these Inbound Marketing techniques automate the top 2/3 of the sales process.
If done right, it will provide us with leads that are ready to negotiate for a solution, the very task we enjoy and are skilled at accomplishing. Sales efficiency is the new game changer, and Inbound Marketing methods is the new sales tool!
If you are interested in putting a "Lead Generation and Nurturing Engine" in place for your business, then ask the Bristol Strategy, Inc., experts for their advice by selecting one of the options below.
Read the next article in the series titled: Sales Pipeline Generation, Part 3: Selling More to Existing Customers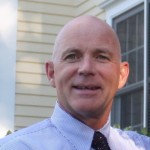 Jim Welch is a guest blogger about sales topics. Jim is a top-producing sales executive in the Customer Experience (think CRM) at Oracle with more than 20 years of experience maximizing sales opportunities within highly competitive markets. Jim has a proven record as both a team player and team leader. His experience spans large corporate and "start-up" organizations selling to commercial, state, local government and education clients.
Bristol Strategy is a full funnel inbound marketing agency and inbound sales agency offering the full complement of services to enable our clients to surpass their business objectives by transforming the way they engage with their buyer on-line. Reach out to us to learn more about how our experience and capabilities can help your business grow.
Hubspot and Oracle logos are the property of the respective companies.