The database is the salesperson's best friend, but it needs to receive the appropriate care and attention before it can prove its true worth as a B2B sales lead generation resource. But it's not just a matter of dumping data wholesale into the system; you must also know which data matters most, how to find it, and what it might mean for your success. Here are items to consider when building your database and tips to make the process more efficient.
Geographic Data
Sometimes geography can play a role in helping you figure out whom to emphasize in your B2B sales lead generation efforts, so you may as well go ahead and track this information accordingly in your CRM database. Perhaps the most important single geographic trend to watch for is a company's success rate in a particular market. While you might assume that a market leader might be a hotter prospect because they're more flush with money to invest in your products or services, you may find that the companies struggling against their competitors have a greater, more urgent need for your solutions. Run a quick periodic search for telling details such as local hiring listings and other signs of healthy growth (or lack thereof).
Employment Data
Who is your ideal prospect? As we've mentioned previously, constructing a buyer persona involves the use of all sorts of details, not just job data -- but don't discount what that job data can tell you in terms of B2B sales lead generation. Of course, you want to start by isolating the exact job title(s) best suited for your purposes, but unless you happen to possess a full directory of each company you contact, that might prove a bit tricky. Don't count on each target company to post every member of the core team's email address on its corporate website, either. Your best bet is to turn to that tremendously useful, absolutely free online business directory known to the world as LinkedIn. Simply search by company and job title to pinpoint those individuals you want to contact
Handpicked Related Content Marketing Articles:
Email Data
Obviously you'll also need the email addresses of those relevant decision makers who represent potential leads (unless you relish the thought of cold-calling your way past the skilled gatekeepers determined to keep you out). But spamming every possible mail address within a domain is neither efficient nor sensible, since your goal is to procure qualified leads worthy of further cultivation. Asking for these email addresses one by one can eat up huge amounts of your time and reward you with relatively few positive responses. Even LinkedIn profiles can be shockingly incomplete regarding this vital detail. If you want that email data, chances are that you'll have to dredge it up without any cooperation from your potential leads.
The good news is that a variety of ways exist that can make it easy for you to do just that. If you want to make your best guess at the possible email address, you can type into a program called MailTester to see if it's valid. If you have no clue as to the email address, you can enter the lead's name and workplace domain into Thrust.io and get a likely answer. Sell Hack has a program that can find email addresses based on social media profiles. You may even find an email address guessing app to be a handy timesaver.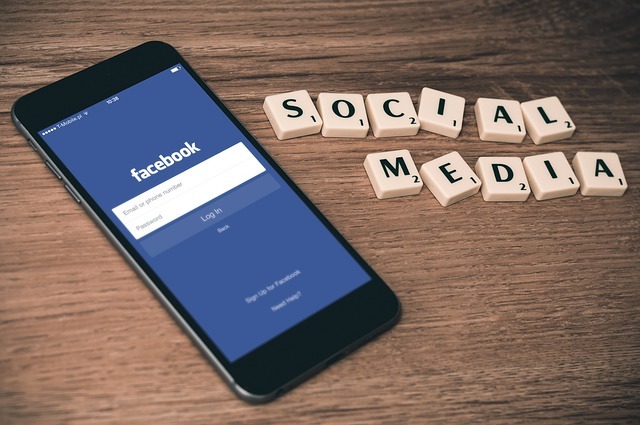 Today's apps can cull email addresses from social media and other sources.
You can also search "The usual suspects" for online sources that are most likely to contain the email address you seek. Better Business Bureau listings and other professional directory listings often include specific email addresses for the individuals mentioned therein. Press releases regarding specific products, services, announcements or issues related to your ideal prospect's work may include that prospect's email address as a point of contact. Having a few standard search tricks up your sleeve will help you avoid those endless slogs for scraps of information.
Becoming a Database Master
Even the most powerful and efficiently-garnered data is of little use to you if you can't access it in the most intelligent, targeted ways possible. Fortunately, today's CRM resources allow for some very sophisticated search techniques to aid you in your B2B sales lead generation efforts. Some of the most notable features are available through Hubspot's free CRM platform. Once you've entered your data into this system, you can gain access to every scrap of that information more quickly and cunningly that you'd even imaged. For instance, you don't have had to click on each link in the Hubspot CRM list to go sniff out the data you need on the prospect's website. Instead, you can click on any un-linked bit of white space on that line and open a hidden panel toward the right side of the screen. This panel gives you an instant thumbnail view of all your collected data on that client. This remarkable but little-recognized feature can be a tremendous time saver in your quest to identify the most qualified leads.
This example to the right is the result of a search for pharmaceutical companies in Massachusetts and then selecting Cubist Pharmaceuticals and then the connections tab. It shows a number of contacts at the company and their titles, more are shown when scrolling down the tab.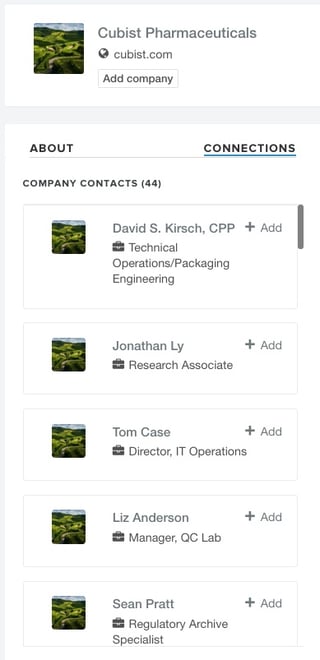 The Hubspot CRM Prospects tool is another handy device to help you cull the maximum amount of useful data about your website's incoming B2B traffic. For instance, many companies may have a legitimate interest in the offerings promoted on your website, but don't want to tip their hand by volunteering their contact information. The Prospects tool can match up the IP address of a visitor with the associated company name and location -- while also tallying the number of visits the company has made on each of your web pages. If you're seeing a lot of interest from a commercial IP address that appears to be clustered around a particular product or service, then you've potentially got a hot opportunity on your hands.
At this point you may decide that it's time to make that introductory sales call, or you may choose to watch for additional behavioral cues from that prospect to hone your approach even more finely. For instance:
Does the spike in interest correspond to procedural changes or improved performance in a particular sales region? This is valuable information because it can help you steer your marketing efforts toward success and away from entropy.
Is this fresh display of interest coming from an existing lead in the aftermath of a bid or meeting? These reactions can help you understand the lead's degree of engagement and current position in your sales funnel.
Is the interested party already making use of other products and services from your company? If so, a cluster of views concerning a different item altogether can alert you to an up selling opportunity.
The better you are at drawing the right leads to your business, the more easily you can collect the juiciest nuggets of information for your growing database. Learn more by downloading this White Paper: 9 Steps to Attract Qualified Leads for your Business.
Bristol Strategy is a full funnel inbound marketing agency and inbound sales agency offering the full complement of Inbound Marketing services that enable our clients to surpass their business objectives by transforming the way they engage with their buyer online. Reach out to us to learn more about how our experience and capabilities can help your business grow.