B2B sales lead generation is one of those fields that presents great potential for error, as many businesses have discovered to their chagrin. Here are four possible reasons for your own struggles in this area -- and suggestions on how to overcome them.
1. Not Playing to Your Target Client's Persona
Your marketing presence looks just as strong as those of your competitors, but looks can be deceiving -- it's the leads that count. Many businesses don't understand why their message is falling on deaf ears because they don't realize that they're sending out the wrong message to the right people, or the right message to the wrong people.
Who is your ideal client? It isn't good enough simply to respond with a job title or industry description. You need to develop a strong image of exactly who those individuals are -- their needs, challenges, concerns, interests, et cetera, all in the context of what they're trying to achieve for their business. This involves the construction of a detailed audience persona. You'll need the answers to a great many questions regarding this hypothetical person's demographic facts, relationships, career, personal/political/spiritual values, passions, and challenges. You must also consider how your ideal client uses the Internet, participates on social media, searches for answers and shops for solutions. The necessary answers to all these questions can be gleaned from opinion polls, industry white papers and reports, and other forms of market research.
An audience persona puts a face on your ideal client.
But to really understand who and what these people are, you must also know who and what you are. Maybe it's time to take a detailed look at your company's own persona. What is your company mission, brand image, industry position and unique value proposition? You must communicate these pillars of your persona clearly in every piece of marketing content you create. This persona will naturally appeal to those entities that have a burning need for what you represent and provide.
Once you know what you have to say and who you want to say it to, the next step is creating the appropriate content strategy. This makes it much easier to come up with a steady stream of articles, emails and other tidbits seen as genuinely helpful and insightful by your audience -- which is bound to give your B2B sales lead generation a welcome boost.
2. Not Hitting Your Target Audience Where It Lives
Maybe you have a firm grasp of both your own persona and that of your ideal customer, and you're monitoring their behavior on your inbound channels in great detail. You've even populated your website and blog with relevant, captivating content that appeals directly to their indicated interests and needs. Why, then, might you still be having trouble generating leads? The trouble could be that you're failing to seek out and interact with your prospective clients in the communities they frequent.
Creating a strong initial web and social media presence won't help your B2B sales lead generation all that much if you take an "If we build it, they will come" attitude toward these channels. Creating a website, even a well-optimized one, is not sufficient to reach your target market. Nor is merely maintaining a blog. You also need to find out exactly where your prospective B2B clients are spending the majority of their time on the Internet -- and you need to join them there.
Which LinkedIn groups do representatives of your dream clientele belong to, and what conversations are they having there? Join those groups, join the party, and try to build a reputation as a thought leader within that sphere. Are there industry-specific, technology-oriented networking groups and events where you might meet your future clients in person? The answer might be as simple as a quick perusal of your local Meetup.com or Chamber of Commerce calendar.

TWEETABLE TIP
4 Reasons Your B2B Sales Lead Generation is Stalling - Don't become a victim of selling while blind. | #B2B #LeadGeneration
3. Not Measuring Lead Generation Effectiveness
Here's an odd fact, as relayed by an article in eMarketer: A survey of marketers identified brochures as one their major lead generation tools, yet only 9 percent of the respondents regarded brochures as highly effective for lead generation! This kind of strategic disconnect only serves to point out how far off the mark you wander when you follow established practices blindly instead of basing them on the best possible data. Many B2B marketers are making this critical error because they're not tracking and measuring the relative lead-generating effectiveness of each form of content they produce.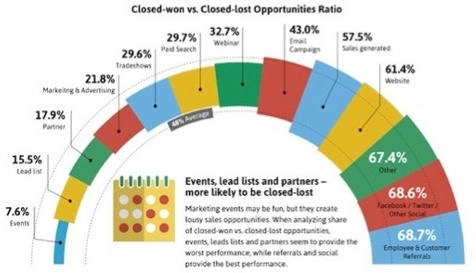 Some types of content format and delivery tend to deliver more powerful B2B sales lead generation than others, as we noted in a previous post. Apart from direct customer and employee referrals (which blow the doors off of just about any other marketing method available), the highest lead-to-deal conversation rates are generated from permanent website and social media content. Email campaigns, lead lists, and events tend to trail significantly behind these other forms of marketing. You might feel like you're making a big splash at that national technology expo or trade show, but you'll have to work awfully hard to get the same ROI that you'd have enjoyed by focusing on online content generation.
To really get the most out of your B2B lead generation, engage a dedicated inbound marketing firm with the proper tools, expertise, and manpower to track your marketing response rates, not only by channel, duration, and volume, but also by content type. Once you know what content delivers the greatest ROI, you can adjust your overall marketing strategy accordingly.
4. Failing to Use Strong Lead Conversion and Nurturing Tools
Converting a visitor into a lead can prove a complex process. You might assume that the further along your sales funnel a prospect travels, the more of a "sure thing" he becomes. but there's another factor involved, one that actually elevates the risk of that prospect dropping away from you -- the increasing level of commitment you're asking. Sooner or later, you've got to capture that person's contact information if you want to have any hope of pursuing and converting the lead. Some businesses fail at precisely this stage because they haven't provided that one extra enticement to win the lead over.
How do you overcome this stumbling block? The smartest strategy is to make sure you're offering high-value content in exchange for their information and/or additional participation within the sales funnel. Technological white papers, ebooks on the state of your audience's industry, access to members-only areas where they can peruse exclusive product reviews -- these and other goodies make them feel that they're making a sensible business exchange instead of just volunteering their email address.
Once your B2B sales lead generation appears to be working, you must nurture those leads until they finally blossom into sales. This is where that contact information you collected goes to bat for you. Email offers for discounted products or services (or announcements of new ones), invitations to sponsored industry events, seasonal articles and purchase suggestions can all keep you top of mind until that lead finally buys.
Want some additional tips on how to turn your company into a B2B sales lead generator? Download our White Paper: 9 Steps to Attract Qualified Leads for your Business, and you'll be off to a great start!
Bristol Strategy is a full funnel inbound marketing agency and inbound sales agency offering the full complement of Inbound Marketing services that enable our clients to surpass their business objectives by transforming the way they engage with their buyer online. Reach out to us to learn more about how our experience and capabilities can help your business grow.