We have written about the importance of a marketing strategies that aligns with your target prospect's triggers and goals while leveraging that content with marketing automation that implements your best sales representative's sales process to create a lead generation engine for your business. This proven approach combines the best of Inbound Marketing and adapts to the changing buyer behavior. Prospects are using the web to perform the majority of their product research online, so naturally your website is one of your most important marketing investments.
Businesses continually struggle with where to invest their marketing funds for demand generation. It is always hard to understand which marketing activities generate the best results for your business. This infographic shows the best and the worst marketing channels for B2B businesses. I found it very interesting that the channels that generate the most leads, seldom result in the best conversion rates into deals.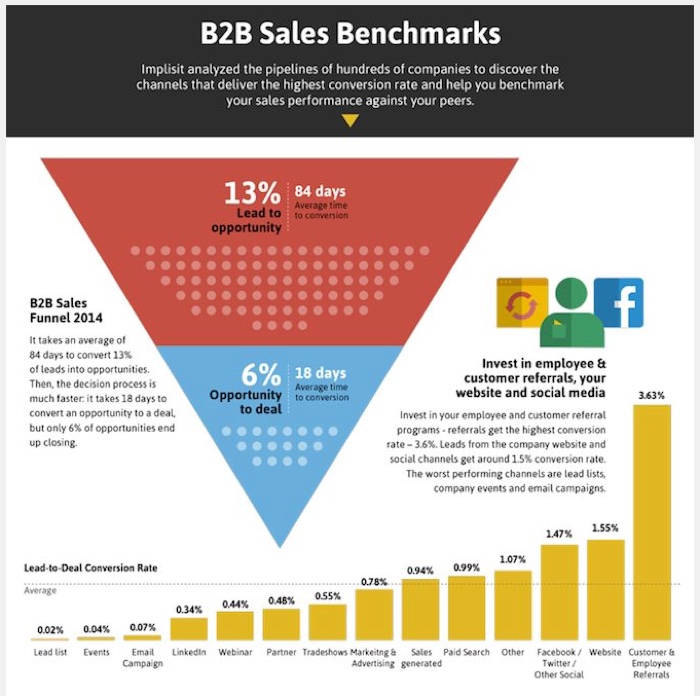 CLICK ON IMAGE TO VIEW INFOGRAPHIC
The conclusion of the Sales Benchmark study is to invest in your website, employee and customer referrals, and social media for the best conversion rates from the opportunities generated by these activities into deals.
Marketing automation with closed loop analytics from sales enabled this analysis. When Bristol Strategy develops an Inbound Marketing strategy and plan for a client, we always work with them to establish Key Performance Indicators (KPIs) for Visitors to Leads, Leads to Opportunities and Opportunities to Deals (and in some cases, one or more additional levels or granularity). With these goals in place, we can measure how we are doing as we execute their Inbound Marketing strategy. Business should also consider the processes that their sales teams use to convert the marketing leads into sales. Sales enablement is an important area for investment, especially for opportunities that are generated from lead sources with the highest conversion rates.
This report claims a Lead to Opportunity conversion rate of 31.3% and an Opportunity to Deal conversion rate of 5% from B2B business websites. This statistic underscores the importance of a website, and the content the site delivers.
The worst performance from lead to opportunity conversion rates is from Events, Lead Lists and Email Campaigns with conversion rates in the single digits. Another surprise was that even though Webinars had a 17.8% Lead to Opportunity conversion rate, a much lower percentage converted into deals (2.5%).
Another surprise was the ratio of Closed-Won versus Closed-Lost from each channel. The worst performers are Events (7.6%) and Lead List (15.5%). The best rates come from Employee & Customer Referrals (68.7%), Facebook, Twitter and other Social (68.6%) and Website (61.4%). The higher the percentage ratio, the more of the opportunities are won by the business.

TWEETABLE TIP
Infographic: Which Marketing Strategies Produce Highest Sales Conversion Rates - Research shows which marketing channels produce best results! Read more to learn which are best for you.
VIA @dorecchio

This report demonstrates the importance of a company's website and social strategy to the overall effectiveness of their marketing and sales efforts.
If you are interested in learning how to create a content strategy for your website that will increase your conversion rates from visitors to leads to deals, please download the content strategy data sheet.
If you are interested in social media strategies that work please feel free to read this article titled "B2B Social Media Strategies That Work."
For a primer on the Inbound Marketing methodology, download the whitepaper titled "The 9 Steps to Attract Qualified Leads for your Business"
Bristol Strategy is a full funnel inbound marketing agency and inbound sales agency offering the full complement of services to enable our clients to surpass their business objectives by transforming the way they engage with their buyer on-line. Reach out to us to learn more about how our experience and capabilities can help your business grow.