The recently published State of Inbound 2017 report is chock full of deep insight into the challenges and opportunities of sales and marketing teams worldwide. Since we have been deeply involved in sales enablement and Inbound Marketing for our clients, we thought we would take just one section of the report and drill in to share what sales leaders believe is more difficult today than two or three years ago.
If you are a sales professional, then you should have direct experience with these challenges and perhaps have even taken steps to address them. The impact the vast resources available online have had on many industries and professions is profound. The sales job is no different, and those who understand the impact and develop strategies to address them will succeed.
It is valuable to learn from this report and understand from the experience of other sales teams. This research report provides us insight into the state of the Inbound methodology (for sales and marketing) and provides actionable data to form our plans to address the challenges we all face every minute of every day. The following chart shows what is more difficult in sales as compared to two to three years ago. It is found on page 20 of the state of inbound 2017 report.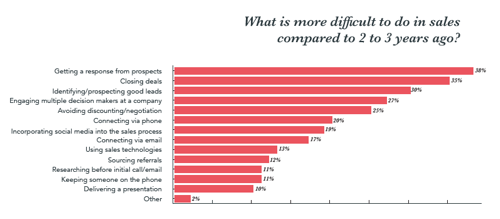 The report provides us with information about many aspects of the state of Marketing and Sales. The following are the top five sales actions that are more difficult today than they were just two or three years ago:
#1 - Getting a response from prospects
Gartner published a study that reported that prospects were delaying contacting a business until they have completed 57% of the buying process. They further reported the same metric would reach 80% by 2020. We can all debate the opinion of pundits. However, we all experience this truth because it has become harder to get prospects on the phone. The highest percentage of the respondents of the state of inbound report agree that most are experiencing this difficulty. The sales professionals I have spoken to recently in my own flash pole have reported that it typically takes seven touches to connect with a prospect if you are successful at all.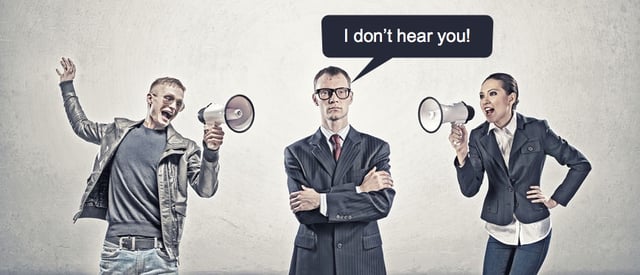 There are multiple strategies a sales representative can employ to capture the attention of a prospect. The most important tactic is to not drop a lead until sales have completed at least eight touches! Most sales reps are not as persistent as that. There are tools available that help sales automate a sequence of outreach attempts (phone and email). Sales teams should take advantage of customer engagement tools that make them more productive and not lose leads in their sales funnel.
#2 - Closing Deals
There are many factors that can affect the ability of a sales rep to close a deal. The prospect might be a poor fit. Skilled teams make a significant investment in learning the best way to qualify prospects so that they do not waste time with prospects that are unlikely to buy. Of course, the "fit" between the prospect and your company may be due to product capability or service location or many other items.
The most common approach to addressing the difficulty of closing sales is for the marketing team to generate qualified warm prospects who are already predisposed to speak to sales. Since you are reading this blog, you know by now that Inbound Marketing is in the center of our wheelhouse. When Inbound Marketing begins with a sales-centered content strategy, only the best visitors convert into leads. When these prospects are engaged by sales, because they have been educated at each step of the buyer's journey, your sales teams are engaged as a trusted advisor. In this case, if the prospect has a need, only poor closing skills can screw it up!
#3 - Identifying and prospecting good leads
Sales teams cannot just sit around and wait for marketing to provide them with qualified leads, after all, you are responsible for your pipeline! Has any sales manager given you a break for missing quota? I bet not. Marketers have a bag of tools that enable them to attract prospects to your website and convert them into qualified leads. If the material that the marketing team has created are based on a sales-centered content strategy, then the it will be valuable for sales to use when conducting their outreach. A recent article also disclosed that sales teams only spend 1/3 of their time selling. Solve the content problem, and you are on your way toward enabling sales to become much more productive.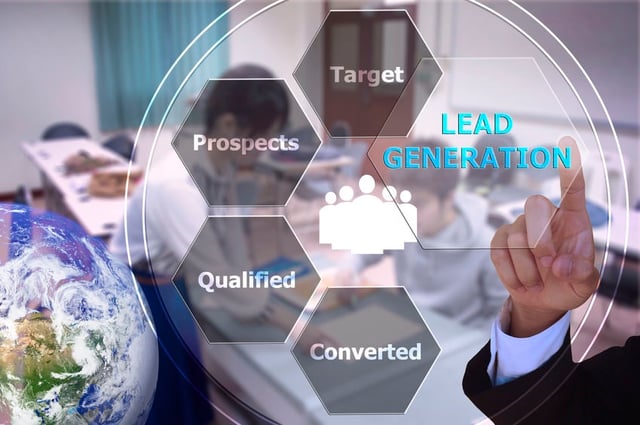 But content is only one aspect of making outreach easier. The solution that is available to sales teams is to leverage the significant treasure trove of analytics that is available about prospects and companies and format that information in a productive way right in the center of the sales rep's workflow. Most sales teams create a list of target companies and lead quality scoring rules that help them quickly move past unqualified prospects and focus on the best opportunities. The challenge is to provide the online information about a prospect to sales efficiently. Our sales team uses the Hubspot CRM to gain insight into prospects so that when we reach out to them, we are doing so with context and understanding of the prospect's interest and needs. The goal is always to be helping and offer value with each touch.
#4 - Engaging Multiple Decision Makers at a Company
The larger the company and the larger the average deal size, the more distributed the decision process. This means you need to be efficient with your communications to every party in an organization and have views into that communication at both the deal and company level in order to measure your progress and plot next steps.
You can see that this issue boils down to analytics and efficiency. Imagine receiving information about which pages of each document you share with multiple prospects in an organization, which website pages they viewed, how often they viewed them and whenever an educational email is shared within an organization. This set of analytics (and others) provide sales teams with insight into their progress with each stakeholder in a target account.
With this level of insight, the sales rep can effectively plot their next step in their sales process. An information-based sales process is far more effective than guessing where you stand with an opportunity. Sales teams need tools that enable them to perform these steps efficiently.
#5 Avoiding / discounting negotiation
The higher the correlation of value and brand perception reduces the need to discount. Your business needs to be perceived as the leader in a market or segment in as many dimensions as possible. The process of setting your products or services apart from the rest begins with the initial product / service positioning, even before the marketing and content strategy is created.
By building your positioning from the very beginning, enables sales to promote your solution and your advantage in a differentiated way to the market. Once that positioning flows through all of the content used by marketing and sales it enables all market facing teams to operate at peak performance. You can only avoid discounting and negotiation on price if you start from a position of strength. In some cases, discounts my be part of your sales and closing process but skilled sales reps make sure they get something of value in return for every concession they make.
Challenge mitigation is all about sales efficiency and modern engagement methods
The new state of Inbound report has information that can help business leaders understand the challenges and opportunities available to them and it provides insight into the solutions other businesses are employing to address them. The Inbound Marketing methodology supports sales, and the Inbound Sales Methodology and tools enable sales to be more productive and effective in their jobs. Ask us about our Inbound Sales enablement service and in the meantime download The State of Inbound 2017 research report.
Bristol Strategy is a full funnel inbound marketing agency and inbound sales agency offering the full complement of Inbound Marketing services that enable our clients to surpass their business objectives by transforming the way they engage with their buyer on-line. Reach out to us to learn more about how our experience and capabilities can help your business grow.
Photo 1 Copyright: 123RF Stock Photo
Photo 2 Copyright: 123RF Stock Photo