Sales funnel automation is a must-have for business. Sales teams can no longer count on cold calling alone to generate leads for their business. Interruptive tactics have lost ground with customers who do two thirds of their research online before selecting a company to work with or purchasing online.
Today's customer is looking for what kind of value your company offers them, to learn new things and gain expertise.
The Resourceful Customer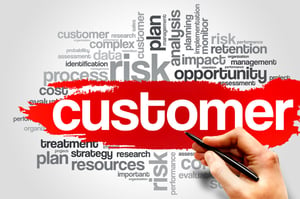 To understand how different today's customers are with their wealth of digital information and resources, consider this:
The radio took 38 years to reach 50 million users, while many phone applications can take only 90 days.
The internet has grown from 50 pages in 1993 to more than 4.54 billion pages today.
59% of consumers with smartphones use their mobile devices for comparison shopping, searching for deals (48%) and searching for product reviews (47%).
It is also important to note that because of the consumer's desire to self-help in the purchasing process, Not optimizing your website for a mobile device is akin to closing your store an extra day out of the week. This is how important your customers find available information and what helps them make a purchasing decision before they even talk to a sales team.
Informing Prospects Without Interruption Tactics
Disruptive outreach tactics are often seen by prospects as annoying. Most business people are well versed in ways to ignore and avoid these methods.Your business should provide the means for prospects to conclude on their own that your company is right for them.
Educating through content wins the favor of prospects:
Blog Content – Valuable posts that sit waiting for a user to need them, expanding your website's reach on search engines and displaying your professional expertise and wins customers.
Social Media Interaction – Speaking directly to an audience who has chosen to follow your company and providing content, professional contact and information that wins customers.
Search Engine Optimization (SEO) – Creatively getting your website to come up high on the list of organic search results when potential customers are looking for a service or product.
Email Marketing – Very different from email blasts, email marketing is an opt-in/opt-out resource that allows your business the opportunity to provide valuable articles, updates and opportunities that wins customers with little or no expense.
Direct eMail – Businesses are finding that a printed mailer (sent out in addition to their email marketing scheme) wins customers who may not be as email savvy and provides a way for a consumer to physically interact with your company's information.
Providing a Lead Magnet to Capture Prospects Early
The top strategies all have this in common: they allow the customer to do the searching and provide the resources that attract new leads. Think of your content like a magnet; with very little work, your company puts out information that attracts the right prospects to your business.
The benefit of this process is that your customer comes looking for you! Rather than have your sales team spend their time nurturing leads that might not pan out, you will have a well-developed website, articles and emails that do the nurturing work for you. This automated process allows your sales teams to spend their time helping customers who are ready to purchase.
The Marketing Automation Sales Funnel
As your content works as a magnet that wins customers, buyers are slowly becoming aware of a problem they face and looking for a solution. The strength and size of your magnet will determine how easily potential customers find your company as the solution when looking.
When a problem has been determined, the potential customer will begin to consider their options. Your magnet either wins customers by drawing them right to you, or it will be too weak and another company's magnet will steal the customer away.
When the buyer then reaches the decision stage, they have already done much of the work to figure out the which direction they plan to go. This is when your sales team wins customers by answering difficult and in-depth questions honestly and convince your potential customer that your company is the right fit.
Rather than devote an entire department or employee to the sole task of content marketing, social media marketing and providing other inbound marketing tactics that wins customers, many companies search for someone to automate that funnel for them. That is exactly the kind of work we do at Bristol Strategy – creating the lead magnet that wins customers for your company. Read all about marketing automation to learn how to use this powerful technology to automate the customer acquisition portion of your sales process.
Bristol Strategy is a full funnel inbound marketing agency and inbound sales agency offering the full complement of Inbound Marketing services that enable our clients to surpass their business objectives by transforming the way they engage with their buyer online. Reach out to us to learn more about how our experience and capabilities can help your business grow.