So you're eager to tackle the marketing challenges of a promising new year for your B2B company. Good for you! But don't just draft out a carbon copy of last year's marketing plan; make sure you follow the smart money by implementing new insights and inspirations. Here are some great additions to help you carve out a take-no-prisoners B2B marketing plan.
Take a Truly Integrated Approach
We're living in one big world now, and not only from a communications standpoint. The commercial Internet has grown so ubiquitous in every aspect of business and consumer life that it can no longer be separated from the mainstream of buyer activity. In other words, there's no such thing is "online marketing" or "digital marketing" anymore; to market at all is to market across all possible technologies simultaneously. This means you must build a B2B marketing plan in which print collateral and digital content are two sides of the same coin, and in which outbound calls and drip email campaigns follow up on leads in a concerted effort.
Get ideas for your marketing plan by reading the White Paper: 15 Tips To Delight Your Customers And Increase ROI.
Nor should you separate the different marketing tools or channels at your command into their own little silos. Your social, content, web and SEO efforts should all work together, feeding each other as a part of a powerful, smoothly-functioning marketing machine. In fact, a Content Marketing Institute survey found that social and content are essentially joined at the hip, with social media proving the most effective single form of content marketing there is. All these channels and resources must work together with congruency, each supporting and reinforcing your overall corporate message and brand image. Build this kind of thematic integrity into your B2B marketing business plan, and you'll make a more vivid and consistent impression.
Smooth Out Your Sales Funnel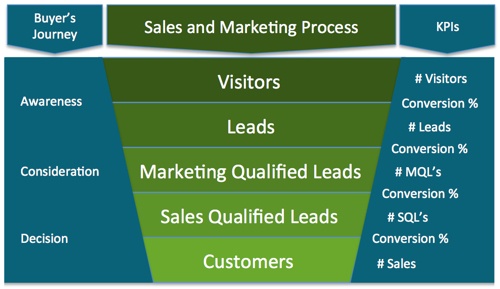 If you've been thinking of lead generation, lead nurturing and customer follow-up as different functions, it's probably wise to put those distinctions aside as well. Drawing more visitors to your social media channels, and from there to your B2B website, is only worth the money and effort if those visitors are guided smoothly through the sales funnel. But it's easy for "noise" to interfere with your instructions along these lines. This is especially true when your lead lands on a LinkedIn, Facebook or other social media page teeming with enticements to wander off elsewhere. To keep your message coming in loud and clear, consider investing in content marketing and the creation of downloadable or on-site content that answer the user's questions and needs within the walled garden of your own sphere of influence.
Your B2B marketing plan should also include an audit of the entire sales funnel as it currently stands, ideally by a third-party inbound marketing agency. Any weak links, under performing landing pages or ineffective calls to action need to be dealt with immediately if you want your company's marketing to outdo previous years.
Count on Content
Much has been made of Google's new emphasis on relevant, authoritative, high-quality content, and rightly so. There simply is no marketing without marketing content; it's the engine that drives the car, so you'll need to make its care and feeding a central part of your B2B marketing plan. Entertaining, engaging, genuinely useful white papers, video narration, podcast audio, blog posts, newsletters, sponsored ads and email articles are all critical for grabbing and holding prospective leads at every step along the sales funnel, not to mention boosting your search rankings by impressing the major search engines. Hire as many copywriters as necessary, or enlist an entire B2B marketing firm, to ensure that your marketing always has the right content in the right quantities. If you need a recipe for high quality content that will attract your ideal buyer, consider creating a content strategy that is tuned to your sales process.
That doesn't mean, however, that more is always better. For instance, ask your marketing provider to make sure your content is sufficiently "digestible" for today's fast-paced business audiences. Above all, put quality before quantity. Even though 76 percent of all content marketers plan to produce more content marketing, so do 81 percent of those content marketers considered "least effective" in the aforementioned Content Marketing Institute study. Put your money behind better content, not just more content.
Invest in Marketing Automation
According to Smart Insights, marketing automation is predicted to make a greater commercial impact than any other single digital marketing activity. If your company specializes in costly, large-scale (or high-volume) technology sales, typically pursued on a multi-month sales cycle, marketing automation could be well worth adding to your B2B marketing plan.
Of course, you'll first want to make sure that your existing sales process and CRM system is logically laid out and well understood before you add any new levels of automation. But the right suite of marketing automation software can help your team make better use of real-time data aggregation and sharing across multiple channels. This allows you to customize better the customer experience and make use of predictive marketing strategies for a more profitable sales year.
Account for Ad Blocking
If you'd planned to make online advertising a major part of your B2B marketing plan, be advised that you ought to go into it with your eyes open. Make no mistake, online ads can work -- but only when you know your target audience is seeing them. The increasing adoption of AdBlocker and other such programs can easily turn your online advertising investment into a bust. But this is another instance where smart planning can save the day. Consider shifting your marketing plan away from traditional static ads toward dynamic, content-driven native advertising such as hosted articles. Invest in advertising that your business prospects actually want to consume, and you'll get the attention you need to make your impact.
Optimize Mobile and Email Marketing Simultaneously
Which tool will your B2B marketing plan be placing an emphasis on -- mobile marketing, or email marketing? The correct answer to this question is: "Yes." Both of these tools are enormously powerful for boosting brand awareness, generating leads and making sales. But today's online marketing behaviors and trends have made them somewhat co-dependent on each other. That's because 74 percent of smart phone users prefer to view email via their device of choice, with more than half of all email opens occurring on such devices. Keep in mind, however, that pushing email marketing in your B2B marketing plan won't make any sense if you haven't also planned for a responsive, mobile-friendly website. So put both of these items on your to-do list this year if need be.
The right forethought and strategies can help your B2B enterprise get the most out of its marketing investment. If you're interested in gaining even more insights into a profitable new year, download this white paper:
Bristol Strategy is a full funnel inbound marketing agency and inbound sales agency offering the full complement of Inbound Marketing services that enable our clients to surpass their business objectives by transforming the way they engage with their buyer on-line. Reach out to us to learn more about how our experience and capabilities can help your business grow.