Virtually every organization of size has some sort of customer relationship management (CRM) infrastructure that enables them to automate many of the functions associated with keeping customers happy. Over time, these platforms can become less-than-efficient and could benefit from some upgrading or even replacement. After all, you bought or licensed your CRM platform to simplify operations in the first place, so you should be interested in keeping it clear of the confusing clutter and diminished functionality that gets in the way of efficiency and productivity.
However, inertia is a powerful thing and Newton's First Law of Motion that states "a body at rest remains at rest" can prove to be difficult to overcome, even when it comes to software. So if this sounds like your company or organization, it's important to realize that just because you rely upon your CRM platform and sales automation tools doesn't mean they're your friend. Over time, even the best CRM ecosystem can become difficult to work with as layers of patches, APIs, and customization take their toll.
If your CRM and sales automation works in the cloud, it may be time to reevaluate your CRM cloud application vendor, especially if you cannot get a single, seamless view of your customers and their data. This is a critical capability these days, as customers demand a fully-integrated experience, expecting you to have all of their information at your fingertips when they contact you. A single, end-to-end view of the customer is absolutely crucial for optimizing your engagement with them and earning their business and their loyalty.
Is customization really necessary?
Just because you can customize doesn't mean you should. If you have customized your CRM or other enterprise solution and your platform has to undergo an upgrade that requires a re-write of your implementation, then you would be best served to review all available providers.
When reviewing new CRM systems, you should focus on 3 areas:
Platform – go with a cloud-based solution, one that is preferably already integrated with your HR and ERP systems or can easily be integrated with both. If the vendor provides HR and ERP systems with a common data schema, that is the optimal state for providing that "single view of the customer".
Functionality - get one that offers the workflows you need out of the box. A good rule of thumb is the less customization, the better
Extensibility – make sure that you can configure (not customize) the functionality that the vendor lacks.
It also may be time to change vendors if your CRM system does not enable you to implement best practices or you're being forced to upgrade to a significantly newer version of the software, even if you may not need it. Even with customization, your current platform may not allow you to implement best practices needed to address current CRM demands. New systems coming out of the box today often have best practices already implemented. That's why it's important to review your businesses processes regularly – a simple upgrade may significantly improve operational efficiency, such as adding mobile capabilities that enable your customers to interact with your business from any device, anywhere.
So how can you determine if your current CRM platform is friend or foe?
Ask yourself these four simple questions:
Is our platform strategic? Does it enable you to significantly improve productivity, customer satisfaction, and overall operational efficiency?
Is it a pain? Are you constantly developing work-arounds or patching less-than-optimal functions?
Does it provide the data quality we need? Data for data's sake is not valuable. There's no need to pay for all that Big Data if you're not using it.
What do we need next? Is your system flexible and scalable to easily meet future demands? If every new customer demand requires a major system overhaul, it's probably time for a new system.
If the idea of making a major investment in a new CRM platform makes you queasy, relax. There are lots of low-cost and even free automation tools available for SMBs with platforms such as Hubspot. For larger enterprises, providers such as Oracle and Salesforce offer a wide range of cloud-based data management and automation services that can vastly improve your CRM capabilities.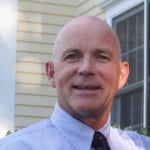 Jim Welch is a guest blogger about sales topics. Jim is a top-producing sales executive in the Customer Experience (think CRM) at Oracle with more than 20 years of experience maximizing sales opportunities within highly competitive markets. Jim has a proven record as both a team player and team leader. His experience spans large corporate and "start-up" organizations selling to commercial, state, local government and education clients. See more articles by Jim.
Bristol Strategy is a Hubspot Gold Partner and experienced digital marketing resource for small businesses and large enterprises. Contact us today to learn more about how to successfully employ CRM and sales automation tools for your business. We'd be happy to help.